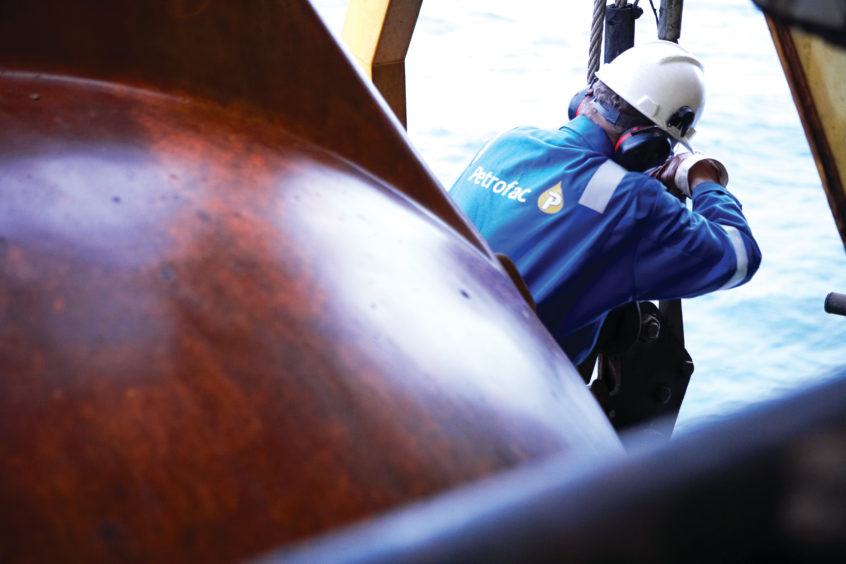 A boss at Petrofac has said the loss of a UK North Sea contract with French major Total was "disappointing", but not "mission critical" for the oilfield service firm.
John Pearson, chief operating officer of Petrofac's engineering and production services (EPS) business, added he felt Petrofac's offer was modern and efficient, and would have taken Total "to the next level".
But Mr Pearson said Petrofac had grown in the North Sea last year, and would do so again this year and next.
He was speaking after Petrofac, at group level, said 2020 would be a "year of transition" and predicted a drop in revenue for the year.
Total caused a stir in the contractor community last month when it awarded a five-year maintenance and operations support deal to PBS, a newly formed consortium led by French, family-owned firm Ponticelli.
Petrofac was overlooked, as were several other established North Sea contractors, including Aker Solutions, Stork, Worley and Wood.
Mr Pearson said winning and losing contracts was "just part of the process".
He added: "With contracts, you have them for a term – some you win, some you lose and move on.
"It was disappointing in this instance because we knew we had a modern and efficient offering that would have taken Total to the next level.
"Total made a bold choice and, like with all bold choices, will see how it transpires."
Mr Pearson said "wins and losses" were factored into Petrofac's predictions for growth in the UK North Sea.
Globally, Petrofac's EPS business chalked up revenue of £685 million in 2019, up 4% on the previous year as projects work picked up.
The division secured awards and extensions worth about £770m last year, predominantly in the UK North Sea, Middle East, south-east Asia and former Soviet republics. It had a backlog of £1.3 billion at the end of last year.
In December, the EPS arm inked engineering framework agreements with two North Sea operators, one of which was EnQuest, having a month earlier announced an extension with Ithaca Energy.
Last month, Petrofac won a two-year deal to provide £38m-worth of services for Petrogas NEO UK, a new UK North Sea joint venture owned by Omani firm Petrogas and Neo Energy.
Mr Pearson said Petrofac EPS had a "great year" in 2019 and was very much in "growth mode".
He said the brownfield projects market was "back" after a few years of "capital discipline", including in the North Sea, and Petrofac's well engineering service was in demand. Mr Pearson added the business was "starting to see payback" for its focus on efficiency and lowering its cost base.
He also said the energy transition presented a huge opportunity for Petrofac.
Gas and offshore wind were part of Petrofac's portfolio, he said, adding the company was "making moves in solar and looking at the timing of the carbon capture and hydrogen markets".
Petrofac employs around 900 people in Aberdeen and a further 2,000 offshore in the North Sea.
The wider group employed 11,519 people on average last year, compared with 11,500 in 2019.
2019 RESULTS
Petrofac said yesterday it enjoyed an 80% jump in pre-tax profits last year, but reiterated a warning its revenue would drop this year.
The firm said 2020 would be a "year of transition" and figures would reflect the low intake of new orders.
But the London-headquartered group said the market outlook was improving and vowed to invest in digital technology in order to capitalise on the upturn. Bosses also pledged to maintain the dividend at Petrofac, which reported revenue of £4.3 billion in 2019, a decrease of 5% year-on-year due to "project phasing".
Pre-tax profits climbed to £148 million from £82m, on lower exceptional items and certain "re-measurements".
Chief executive Ayman Asfari said Petrofac's results reflected "solid operational performance across the business".
The firm intends to bid for contracts worth £28.5bn which will be put out to tender by the end of 2020.
Petrofac said it was focused on bringing the matter of a Serious Fraud Office corruption investigation to a close "as quickly as possible". The investigation was launched in May 2017 and forms part of a wider probe into Unaoil, a Monaco-based consultancy.
Recommended for you
X

Saipem 'beats all targets' for 2019 as it swings back to profit