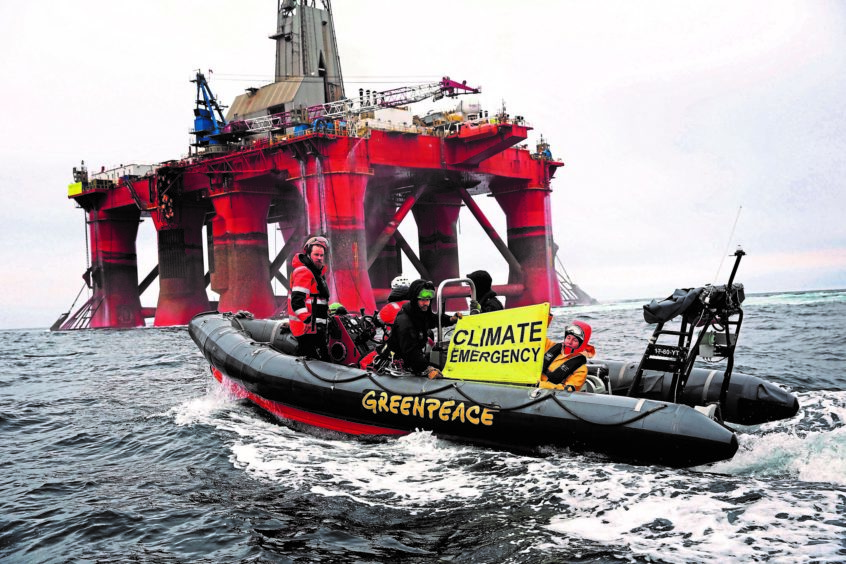 A Greenpeace boss has vowed that his organisation "will not be silenced" despite facing a lengthy prison sentence over North Sea protest action in 2019.
The fate of Greenpeace UK chief executive John Sauven could be decided today, as US oil rig operator Transocean pushes for jail time and "unlimited fines" as punishment for 12 days of activism that attempted to halt a drilling rig reaching BP's Vorlich field.
It is a two-well development 150 miles east of Aberdeen.
A ruling on the case will be held at the Court of Session in Edinburgh.
Transocean's Paul B Loyd Jnr rig was forced to abort its journey to the Vorlich field several times in June last year after the campaigners blocked its path with an icebreaker ship and two inflatable launches.
Activists had also scaled the rig days before in an attempt to halt its progress out of the Cromarty Firth.
Tranocean claim Greenpeace knowingly breached an interim interdict, a court order designed to prevent protest action and that they put people and property "at risk" when they blocked the drilling rig.
Mr Sauven told Energy Voice in April he "doesn't know" why Transocean are chasing Greenpeace over the injunctions, but claimed his organisation's actions "were justified".
He added: "We did it to raise awareness about what was happening in the North Sea and the duplicity of the oil companies saying one thing and doing another."
Transocean has said on a number of occasions that while it "supports the right to peacefully and safely protest", Greenpeace protestors placed "both people and property unnecessarily at risk when they illegally boarded and subsequently interfered with the safe passage of one of our rigs" in 2019.
Mr Sauven faces up to two years in prison, with Greenpeace potentially looking at unlimited fines if found to be in contempt of court.
He said Transocean was desperately doing everything it could to scare Greenpeace off.
"But we will not be silenced," he said. "We will stand up proudly in court to defend our peaceful protest."
Mr Sauven added that stopping the drilling rig was the climate group's "moral duty" due to oil giants "fuelling the climate emergency, threatening the safety of our planet and putting lives at risk".
Recommended for you

Greenpeace loses court battle to block North Sea oilfield