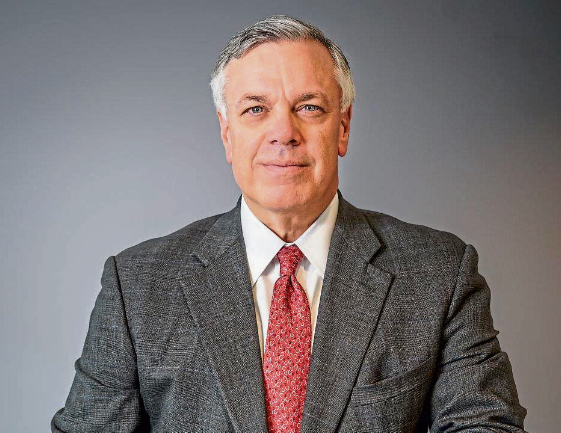 The North Sea oil industry's old guard is concerned that the sector's regulator is "losing balance" as a result of its efforts to help government meet net-zero targets, a top boss has claimed.
Jim House, chief executive of Neptune Energy, said many of his counterparts feel the Oil and Gas Authority (OGA) is no longer focusing enough on its original objective – maximising economic recovery (MER) from the UK Continental Shelf.
House warned that tipping the balance too far towards decarbonisation could "accelerate the timeline" for cessation of production (COP) from the basin.
He believes decarbonisation is important — and not just because delivering net-zero emissions by 2050 is now a legal requirement in the UK.
But House strongly believes emphasis should continue to be placed on safeguarding domestic supply and protecting North Sea infrastructure which has been "inherited" after 50 years of investment.
"It's not either or — it's both. You need balance," he said.
The OGA recently held a 12-week consultation to seek views on its intention to "refresh its core aim", including a requirement for industry to help the UK go carbon neutral.
Launching the process in May, the regulator said MER "need not be in conflict" with the energy transition and was convinced oil and gas firms would play a big role in the switch to a low-carbon economy.
It insisted oil and gas would remain a "vital" part of the UK's energy mix during the transition, which meant that "managing declining North Sea production to maximise value" would be "essential".
The OGA also said oil firms should go "considerably faster and farther" in reducing carbon footprints.
The regulator's external messaging seems measured, sensible and in line with what House wants to see.
Nonetheless, some of the sector's most experienced professionals appear to have been spooked by what they've been hearing and seeing of late.
They are worried the OGA is leaning too far in the direction of decarbonisation.
House said: "Some industry veterans — and some that are retired now — are growing concerned that the OGA is starting to overweight its direction, strategy and energy more along the lines of net neutral versus having a balance between net neutral and MER UK.
"Many see it as the OGA not driving and having as much energy in the space of what it was originally founded to accomplish around MER. It could accelerate the timeline of COP for the UKCS.
"I'm speaking on behalf of many. I'm hearing chatter in the background. This is from some very seasoned industry leaders, many retired or quasi-retired.
"They are very concerned that the OGA has lost a bit of balance and is going off too strongly in one direction."
In response, a spokesman for the OGA said: "We have engaged widely with industry on our strategy to integrate net zero considerations and it's clear from the responses we've received that there is strong support for the direction of travel."
In June, the UK oil and gas sector pledged to wipe out half of its emissions over the next decade.
Representative body Oil and Gas UK acknowledged that between half and two thirds of those cuts would come from fields ceasing production.
Meanwhile, senior industry figures are working on a revised sector deal application which places net-zero and the energy transition at its core.
House said Neptune would "participate within the boundaries" of any sector deal, and indeed the law, to meet climate targets and societal expectations.
Neptune hasn't been standing still. The private-equity-backed company is a partner in the PosHYdon pilot project, which aims to integrate offshore wind, gas and hydrogen by producing hydrogen from seawater on its Q13-a platform in the Dutch North Sea.
The carbon intensity of its managed operations is among the lowest in the industry.
The firm is also looking at alternative power supply options for the Cygnus gas field in the southern North Sea.
Neptune became operator of the field through its acquisition of French firm Engie's exploration and production business in February 2018.
It is too early to say which option Neptune might go for, but power-from-shore, electricity from offshore wind farms and hydrogen are being considered.
House understands oil and gas and renewables need to coexist, but feels that there is an inherent risk in tipping the balance towards green power too heavily and too early.
He cited the situation in California as a worrying example of what can go wrong.
The Golden State is threatened by frequent blackouts after shutting down large volumes of gas generation without having sufficient battery capacity to store electricity from renewables.
House said the UK should be doing "everything it can" to protect indigenous supply to help keep the lights on and the radiators working, but also because it is better for the environment than imports.
"As far as we can see, every barrel of oil or cubic metre of gas not produced in UK will come from somewhere else," he said, before voicing his concerns that carbon pricing could create "unfavourable conditions" for domestic suppliers against LNG exporters.
Production from Cygnus, which meets about 6% of UK gas demand, is already hindered by a regulatory snag that is taking years to tackle.
Neptune has to stop or curtail production from the field periodically because of UK pipeline specifications established decades ago.
Because its "heating quality" is rated 1.3% below the current threshold, Cygnus gas needs to be blended with gas from other fields before it can be admitted to the National Transmission System.
But if there is a production outage at another field which exports to the same terminal, it may not be possible to achieve the right mix, so Cygnus exports have to be halted or significantly reduced.
The UK then needs to fill the gap by finding resources elsewhere.
In September 2018, House told EV he hoped the UK Government would help accelerate the process amid fears the problem could take more than two years to sort out.
His timeline fears were well-founded, but House did say the issue had "progressed".
New standards which would allow Cygnus gas to be exported without needing to be blended will be put to the Health and Safety Executive, which would then ask Westminster for a public consultation, potentially in Autumn.
House said the new specifications could be passed in a year's time.
Reflecting on the last few months, he said Neptune had originally laid out the "biggest budget in its history" for 2020 before the storm clouds of Covid-19 and the associated commodity price rout came into view.
Neptune's board members got into a "huddle" and worked out a plan.
House said: "In principle, we want to be able to fund our capital and operating expenditure with free cash flow (FCF).
"With commodity prices in retreat, we could see potential funding gaps. We could have covered those with debt facilities, but we wanted to avoid that at all costs.
"We earmarked a large amount we wanted to be able to re-phase, push out and potentially eliminate so we could come through this period FCF neutral."
They ended up phasing capital expenditure about 12 months to the right and identifying full-year cost reductions of up to £300m.
House said: "We've got many veterans on the board who have gone through a number of cycles."
Mr House also said Neptune benefitted from having "patient capital".
He said the company had a "healthy balance" of shareholders in Carlyle, CVC Capital Partners and China Investment Corporation, who were "resolute" during the resilience planning phase.
"They understand what we're doing," said House.
Company bosses previously said the firm aimed to be ready for a stock market listing in 2020, but the company is under no pressure to IPO.
Recent setbacks include a delay to first oil for the 50 million barrel Seagull project in the UK central North Sea.
It was pushed out 12-15 months to late 2022 due to the impact of Covid-19 on its supply chain and logistics.
In June, the company announced plans to cut 400 onshore roles globally and the previous month said it would pay £4m to terminate the acquisition of Edison E&P's UK and Norwegian portfolios from Energean.
The deal would have cost up to £225m and given Neptune 25% of the 250m barrels of oil equivalent (boe) Glengorm discovery.
House was "disappointed" not to be able to complete the acquisition but said the decision to pull the plug was the right one.
The world moves on and so does Neptune, which has offset the reserves the Energean-Edison deal would have added with the help of some exploration work.
Neptune's operated and 40%-owned Dugong well off Norway came good, with volumes estimated to be in the range of 40-120m boe.
The company also participated in the Isabella discovery — announced in March — in the UK North Sea with operator Total.
Neptune has a 50% stake in the high pressure, high temperature field, which Mr House said would be "very expensive" to develop.
An appraisal well could be drilled in the fourth quarter of 2021.
House said: "We're not standing in one place. Our resource base has grown and the importance of Glengorm has diminished."
One thing that hasn't diminished in importance during the Covid-19 meltdown is the supply chain, though the collapse in projects has left it in a very fragile state.
House said the oil and gas industry's recovery was "highly dependent" on having a service sector that can "deliver its part of the equation".
He is "concerned" about the supply chain and said the industry as a whole should do everything possible to help it out.
Equally, he feels the oilfield service sector has shown itself to be "innovative and resilient" over the years, finding ways of diversifying to reduce its dependence on oil and gas work.
"They're going through a very tough time," House said, adding: "I'd like to think we've done what we can to take care of our supply chain and make sure they get the benefit of the work we're doing."
Recommended for you

Neptune Energy expects £53m windfall tax hit as budget looms