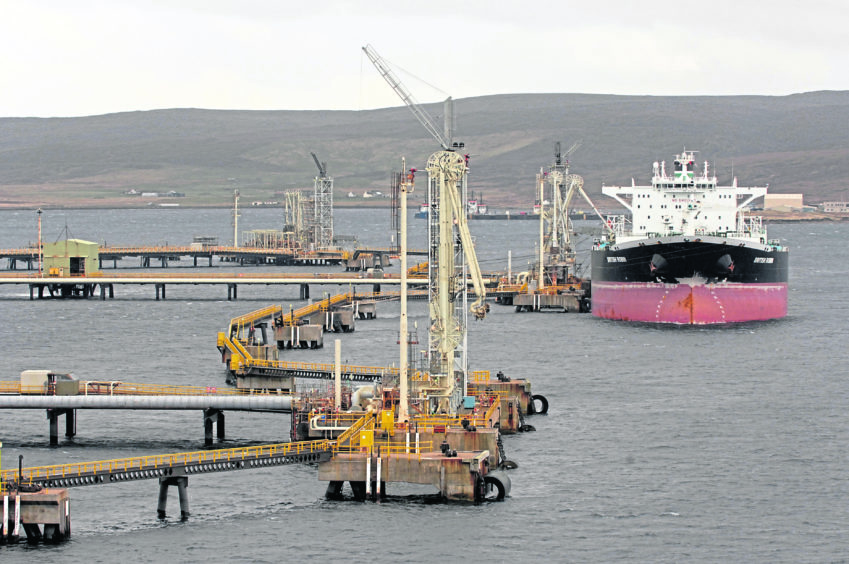 Dozens of workers at a crucial oil processing hub in Shetland will be asked whether they back industrial action as part of an ongoing dispute with the local authority.
Unite plans to ballot around 30 tug and towage workers at Sullom Voe Terminal who they claim are being denied a "service award" after transferring to Shetland Islands Council (SIC) in 2006.
The union said it fully expects its members to support striking, adding that it would lead to a "significant shock" to oil processing on the island.
The ballot is due to open on April 13 and wil run for a fortnight, closing on April 27.
If support for industrial action is successful, strike action is expected to take place at Sullom Voe, which is operated by EnQuest, in the middle of May.
In a previous consultative ballot of union members held in February, on a turnout of 81% almost all workers (97%) indicated they would support taking industrial action.
According to Unite, tug and towage staff have been told by SIC that instead of receiving the long service award for 25 years' service, which is the norm for other council workers and is the equivalent of one month's salary, they will receive a flat rate of £250.
However, the local authority said the award "does not form part" of the contract for towage service employees', who are still on "TUPE protected terms and conditions"
It added that it was keen to understand the "lawful basis" for the ballot.
John Boland, Unite industrial officer, described the situation facing workers at Sullom Voe as "completely unjust and discriminatory".
He said: "We have tried to raise this issue many times over the years, including through grievances, but council management will not accept that these members should be treated equally as their fellow workers.
"These members work on the tugs at Sullom Voe Terminal and bring the oil tankers to port so they can be loaded and unloaded.
"Without these members oil from the terminal simply can't be loaded onto tankers and oil from other fields equally can't be unloaded to be processed.
"If the members support industrial action, which we fully expect, then a significant shock to oil processing and supplies created exclusively by the hands of the Council is on the immediate horizon."
Maggie Sandison, chief executive, SIC said: "The Long Service Award is available to the Council's Scottish Joint Council ("SJC") employees. It does not form part of our Towage Service employees' contracts of employment, who remain on their TUPE protected terms and conditions that includes their own long-service benefit payment.
"The SJC terms might objectively be viewed as being less favourable than the TUPE'd terms. Our Towage Service employees cannot access benefits under an entirely separate contract of employment unless they agree to full harmonisation of the SJC terms and conditions.
"I am keen to understand from Unite the lawful basis of the ballot as the Council is satisfied that it has honoured the TUPE protected terms and conditions employment of Unite's members."
In a separate dispute last year, planned strike action at Sullom Voe was avoided at the eleventh hour after EnQuest offered workers a new pay deal.