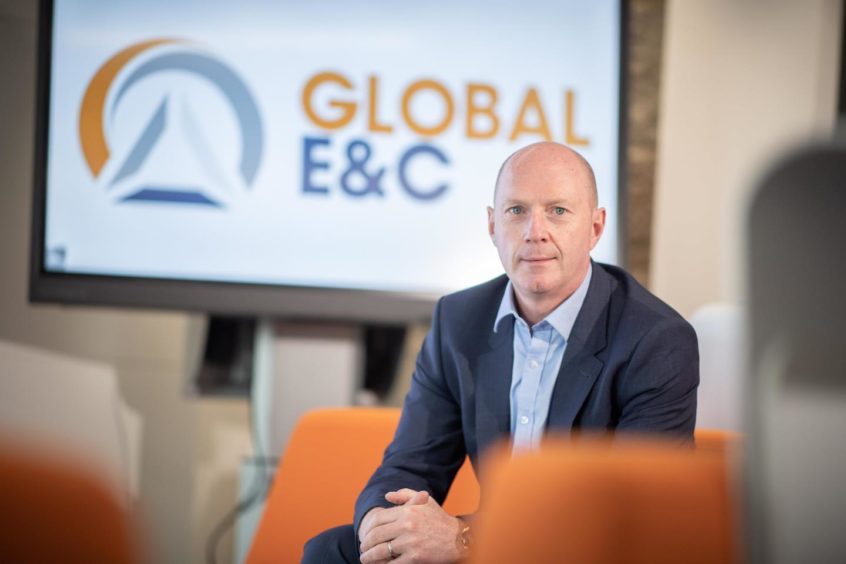 A Banchory man whose fingerprints are on several major North Sea projects has been hired by Global Engineering and Construction (E&C) to bolster the Granite City firm's growth plans.
Derek Thomson, 49, has taken on the newly-created position of projects director at Global E&C, whose parent is Inverness and Aberdeen-based Global Energy Group (GEG).
Father-of-three Mr Thomson, who attended Banchory Academy and is chairman of the town's community football club, has worked in the sector for more than 25 years, heading up teams at operators and service providers alike.
In addition to his day job, Mr Thomson is co-chair on the safe working essentials workgroup within member-led organisation Step Change in Safety.
The Aberdeen University project management graduate joined Global E&C from energy services giant Worley, where he spent the last six years, most recently as operations director.
While at Worley, he played a key role in the front-end engineering and design (FEED) stage of client CNOOC's Buzzard phase two project.
The scheme reached a major milestone recently when a new topside module was installed at the Buzzard complex.
His career also includes spells at TotalEnergies, Dana Petroleum, Fairfield Energy, Wood and Amec.
As engineering manager at TotalEnergies, he oversaw a 115,000 man-hour FEED project for the Laggan-Tormore gas development, west of Shetland.
Mr Thomson said Global E&C's "culture" of challenging industry norms and of innovation attracted him to the business.
He said: "When I looked at the culture and the values within GEG and Global E&C, a lot of that resonated with me.
"In some respects, if I look back at some of the organisations I've been at, some of that has been lost and isn't as obvious or relevant.
"Encouraging humility has been lost for some global organisations.
"I'd like to think that in my various roles, I've seen people with potential and have tried to nurture that and create opportunities for them to fulfil their potential."
Global E&C specialises in brownfield modifications, but Mr Thomson believes he can help the firm win more work on small- to medium-sized projects focused on delivering new oil and gas production, including subsea tiebacks and FPSO repurposing jobs.
He said using tier one, global service providers for those types of projects was like "taking a sledgehammer to crack a nut".
Global E&C's relative leanness and ability to offer engineering, fabrication and construction services means it can "control the full life-cycle" and provide an efficient and quick turnaround on brownfield projects, he said.
The company was formed in March 2019 via a merger of GEG's integrity and construction wing with the brownfield engineering division of Granite City firm Apollo.
GEG – set up by Roy MacGregor, its Invergordon-born chairman and majority shareholder, in 2005 – had bought a majority stake in Apollo, whose consultancy business continues to operate on a standalone basis.
GEG also bought offshore accommodation modules firm Aiken Group out of administration in a pre-pack deal in 2019. It now comes under Global E&C's umbrella, as does engineering consultancy Magma Products, acquired last year.
Terry Allan, chief executive of Global E&C, said Mr Thomson would add "significant value" to the company.
Mr Allan, whose job title was executive director until recently, said: "We're delighted to welcome Derek into our business, especially at such an important time as the market recovers and we continue momentum as a progressive EPC contractor.
"We are absolutely committed to nurturing our dynamic culture and, while bringing a wealth of experience and technical know-how, Derek joins with the right mindset of fresh thinking needed to challenge and further improve the way we operate.
"We have a fantastic team and key appointments like Derek are important to supplement our existing strengths. I'm looking forward to working with Derek's and am confident his vast knowledge will be extremely beneficial to our teams and to our customers."