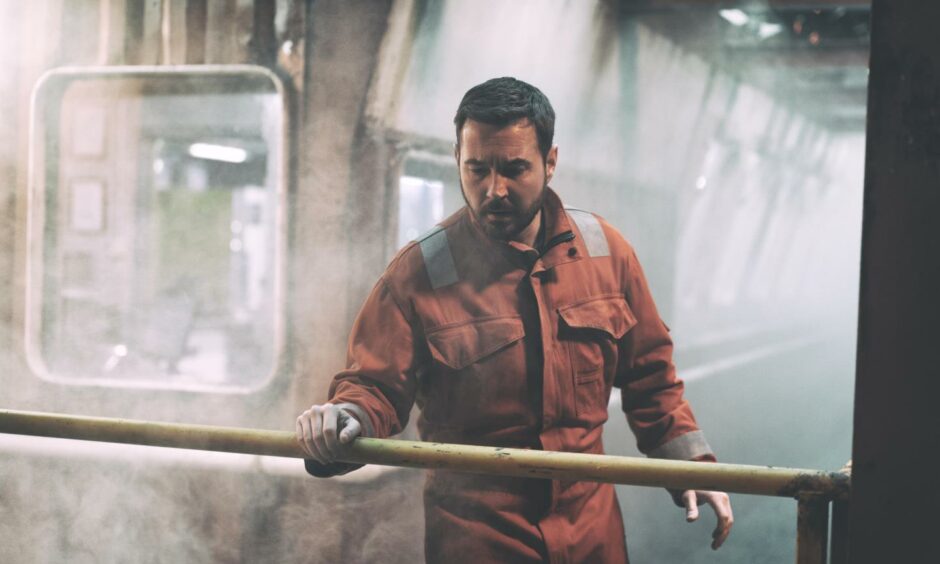 First images were recently released of Martin Compston and the crew of the Amazon Prime show "The Rig", and some real-life oil workers have noticed a few flaws with his offshore attire.
The Line of Duty Star may be fighting supernatural forces in the new North Sea thriller, but that wouldn't be a good enough excuse for slack PPE standards offshore.
"He'd be absolutely hammered, he'd be up for disciplinary!", said Kenny Robertson, regional director of PPE specialist Red Wing, noting his lack of gloves, hard hat or goggles on board the installation.
"Generally when you work offshore you've got an HSE safety rep that would flag or pull anybody up that wasn't conforming (to standards). As soon as you leave the accommodation, you've got to be fully kitted out."
One engineer on social media echoed Mr Robertson, saying: "If you are walking around the rig like the guy in this picture, I can guarantee you are going to be back onshore in the next chopper available."
Another, an engineering consultant, said: "Excuse me, I'd like to have a safety conversation with you regarding your use of PPE…"
Admittedly, Fulmar, the character Martin Compston plays on The Rig, might have bigger worries than his local safety rep.
The six-part series follows a group of workers on the Kishorn Bravo oil rig who are due to return to the mainland when an eerie fog descends and a mysterious force begins to take hold.
According to a statement by the programme makers, as they find themselves cut off from all communication with the shore and the outside world, the crew will be "driven to the limits of both their loyalties and their endurance".
However some riggers didn't think that sounded all that spooky – or unusual.
"'Mysterious and all-enveloping fog' used to be a normal day at Scatsta", one said.
Another person added that such conditions persist "usually around Christmas crew change".
Rather fittingly, another rigger commented: "Let's face it, we will all watch it just so we can pick holes in it…"
Recommended for you

'The Rig' TV show one of Amazon Studios' 'biggest investments'