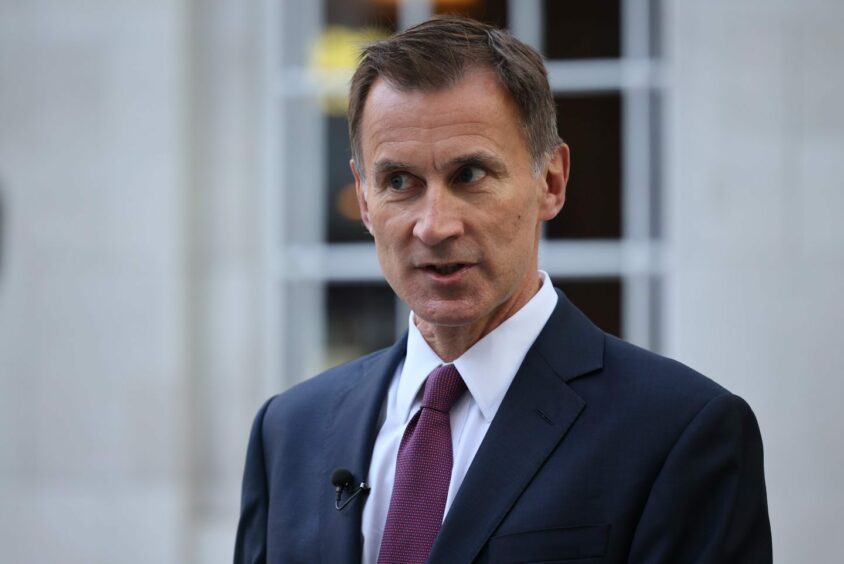 Chancellor Jeremy Hunt is considering an expansion of the North Sea windfall tax – despite figures showing a near-700% increase in payments over the last year.
Figures from the Office for National Statistics, compiled by the Aberdeen and Grampian Chamber of Commerce (AGCC), show tax paid in the first nine months of 2022 totalled £7.9bn, up from just over £1bn in the same period the prior year.
It comes amid reports today that the UK Government is considering increasing the Energy Profits Levy to 30% – from its current 25%.
It may also be extended by another three years, despite Rishi Sunak pledging a "sunset clause" in 2025 for the levy on the UK profits of oil and gas operators.
The move would mean North Sea operators paying an effective tax rate of 70% through to 2028.
It is not clear how investment incentives – currently giving back 91 pence for every £1 spend in the North Sea – would be affected.
The AGCC said the ONS figures represent payments of £46m per day from North Sea operatos.
Policy director Ryan Crighton said: "The reason we have started publishing these figures every quarter is simple; we want to see a more reasoned debate about the UK's energy sector, which is of crucial importance to the economy of Aberdeen and Aberdeenshire.
"North Sea companies are contributing enormously to the financial help being offered to businesses and families, while at the same time working tirelessly to increase the UK's domestic energy production to keep the lights on this winter.
"The suggestion that their reward for this should be a second windfall tax is, frankly, outrageous."
UK profits or global?
Options being considered by Jeremy Hunt and Rishi Sunak also include extending the energy profits levy to electricity generators.
No final decisions have been taken yet ahead of the November 17 budget, the Times reports, where the government is trying to find means of plugging a £40bn fiscal black hole.
Oil giants have posted another set of whopping third-quarter profits, leading to calls to increase the levy.
Trade body Offshore Energies UK (OEUK) has asked media to make a distinction between global profits and domestic profits, however that comes as many oil giants have declined to illuminate their specific figures for the UK North Sea within their financial results.
The Aberdeen and Grampian Chamber of Commerce said the proposals are disproportionately penalising the sector.
Mr Crighton said the north-east energy industry is being "singled out" as banking, pharma and the tech sectors appear to be insulated from such a levy
"That is the problem with windfall taxes. They are subjective. The UK Government is saying it's ok for one sector to make a windfall, but not another.
"And the one which is being penalised, the oil and gas sector, is probably the most cyclical of them all. One which needs good times to help it survive the bad."
Shell says industry 'has to accept' levies
Citing an unnamed government source, The Times said Hunt is likely to justify the increase on grounds that the cost of buying energy has more than quadrupled since Covid-19 and the invasion of Ukraine.
Bosses of energy giants including Shell and Equinor have indicated support for further levies.
Outgoing Shell chief Ben van Beurden said last week that companies "have to accept" government will intervene to "alleviate pressure on those who need that alleviation most".
Shell made global profits of $11.4bn in Q3 results reported on Thursday, but paid nothing in North Sea windfall taxes thanks to investment incentives linked to the levy.
Recommended for you

Sir Ian Wood urges govt to confirm Acorn will benefit from £20bn CCS pot