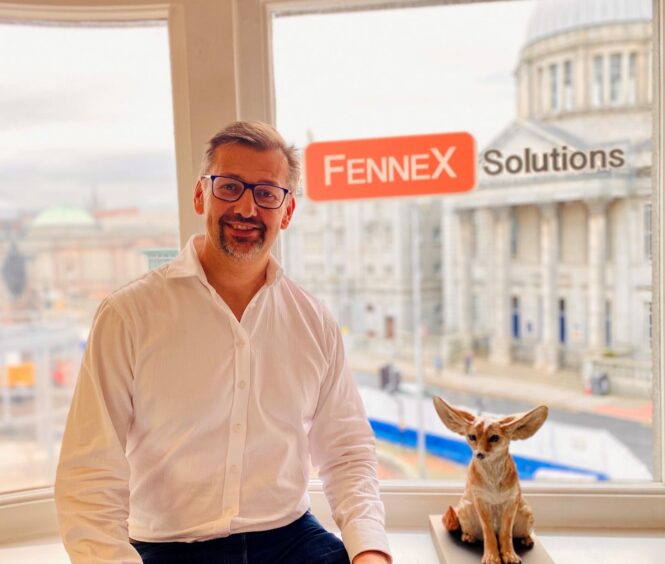 Energy industry technology firm Fennex has relocated its headquarters to One Tech Hub in Aberdeen as it gears up for further expansion.
The company moved to the new site from premises on Union Terrace.
Fennex specialises in the development of artificial intelligence-driven software to accelerate digital transformation in the offshore energy sector.
It said its move to One Tech Hub, Aberdeen's centre for digital technology and entrepreneurship on Schoolhill, gave it the space and "ecosystems" to support its growth ambitions.
The firm has doubled in size this year alone, with plans to increase headcount by a further 50% next year.
It has hired about half a dozen people since January and currently employs 13, plus several contractors.
There are plans to create up to six more full-time roles next year, adding a mix of technology talent and business management professionals.
Fennex's recent growth has come alongside industry accolades.
Last year the firm won the gong for small and medium-sized enterprise innovation at the OGUK Awards in Aberdeen.
And it was recently named alongside major industry players as a finalist at the World Oil Awards in Houston, in the US.
Other successes have come at the SPE Offshore Achievement Awards and Elevator's annual accolades.
Next year could see Fennex scoop the inspiration from innovation" prize in Aberdeen and Grampian Chamber of Commerce's Northern Star Business Awards following its shortlisting in the category.
Adrian Brown, the six-year-old company's co-founder and managing director, said: "Our move to One Tech hub is an important part of our growth plan.
"It's great to be in the hive of digital and technology excellence – helping cement the city's place as a leader in energy innovation and digitalisation."
He added: "This has been an exciting year for the business. We continue to grow steadily and have had the opportunity to deliver effective, scalable and easy-to-use digital solutions to address complex challenges across the energy sector.
'Fantastic' recognition
"It's been fantastic to see our work recognised at industry awards, most recently as a finalist at the World Oil Awards in the HSE (health, safety and environment) and sustainability for offshore category.
"It not only helps put Fennex on the map at the international scale, but has helped us to attract the top talent that is allowing the company to continually push the innovation envelope."
Fennex said it had "onboarded" two new international customers, US-based Valaris and Middle East company Shelf Drilling, and secured work potentially worth more than £870,000 during the past year alone.
Future growth is expected to be driven by the firm's BBSS (behaviour-based safety solution) technology, as well as the research and development of technology aimed at keeping offshore operations running in extreme weather conditions.
Fennex is also launching its BBSS system in the US.
Mr Brown said: "We are officially open for business in America and with more business development, plans and presence planned for the near future, it's an exciting time."
Recommended for you

Abu Dhabi sets focus on tech and emissions, ahead of COP28