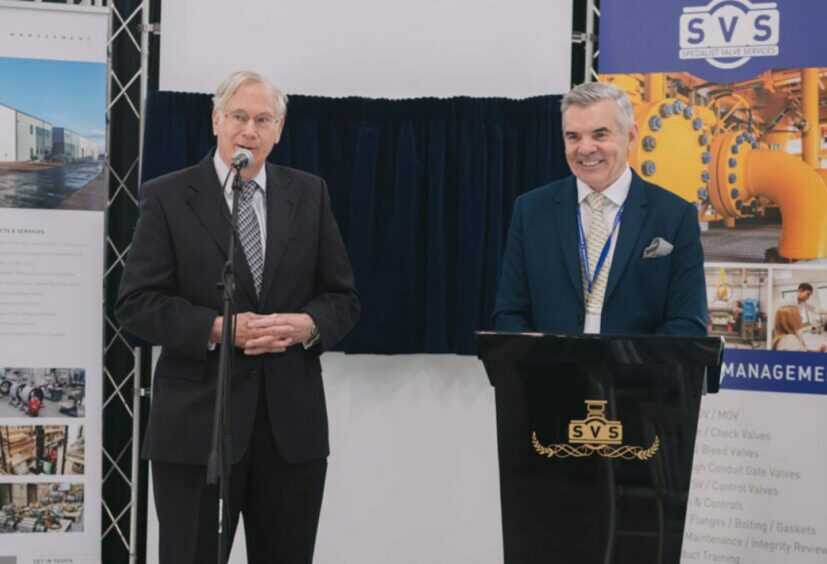 Specialist Valve Services (SVS) is targeting further growth in new markets after a £4 million investment in expansion of its Aberdeenshire headquarters.
The firm has just this week celebrated the official opening of a new service centre next to its existing offices on Silvertrees drive, Westhill.
Co-owner and managing director Gerry Henry said some clients who had already visited the facility were not previously aware of the company's service and repair capabilities.
It is hoped the new facility, opened by the Duke of Gloucester, cousin to the late Queen, will help many more existing and potential clients get to know more about the business.
SVS was founded in 1998 by Mr Henry and Dennis Kealey, who has long since retired.
The business is now co-owned by Mr Henry and his wife, Elizabeth.
It has traditionally focused on the supply of valves, actuators – mechanical parts of a machine or system which provide movement – and ancillary equipment for clients in the oil & gas and petrochemical industries.
This was initially in the UK but the company later expanded to a global client base.
Growth over the years has been steady, despite challenges, and the firm is now eyeing opportunities in sectors including liquefied natural gas, renewable energy and pharmaceuticals.
Paul Henry, project and sales team lead at the firm and the MD's son, said: "Even though there have been a number of downturns and with an extremely competive market, SVS has progressively increased its size, proving great job opportunities to the local area.
"Back in 2015 as oil hit its lowest since the 90s, SVS was still able to expand and launch its first official office and workshop in Westhill, increasing its employee list by double."
Recruitment ambitions
SVS currently employs 30 people but the firm is looking to take on a few more machinists and technicians following its investment in the new service centre.
Mr Henry Snr is also keen to do his bit for skilling up the future workforce by getting more apprentices involved.
Turnover in the last full trading year came in at about £8m.
The company is on track for £10-12m in the current financial period, which would get it back to where it was before Covid-19 caused end markets to "implode", the MD said.
SVS's new building adds 14,500sq ft to its total office take-up in Westhill, adding workshop space and more than doubling the size of the firm's footprint in the town.
The company now describes itself as a "total valve management" organisation, providing full test, repair and maintenance services for its client base globally.
Mr Henry Snr said he hoped this week's royal visit to celebrate the firm's expansion would help SVS to "get the message out about our investment locally and how we are trying to get our business into different markets".
He added: "Our target now is to grow the business significantly, not in drabs. We have made this £4m investment with the clear intention of us looking at other markets and how we can support them."
The new facility was also developed using the latest eco-friendly technologies and features to make sure there is a good working environment for staff, the SVS boss said.
Recommended for you

Prime minister visits iNPIPE PRODUCTS as it opens new Aberdeen service centre