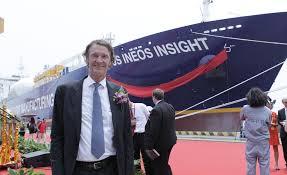 Billionaire industrialist Jim Ratcliffe has pledged to drive out the inefficiency of his new North Sea assets – and has set up a new subsidiary to hunt for even more opportunities.
The owner of Ineos, a Swiss-based chemicals giant that controls the refinery and petrochemical complex at Grangemouth, made a surprise move upstream with the acquisition of North Sea gas assets last year.
Mr Ratcliffe believes his firm is ideally placed to reduce the high cost of operating in the North Sea by bringing the disciplines of the chemicals industry to bear.
Speaking to the firm's publication Inch, he said:
"We tend to operate at 98%. Our machines always run and they are always producing products.
"But if you look at the North Sea we are seeing examples of 60 to 65%. It is just something that we would not accept in chemicals."
Those inefficiencies are made worse by rising costs which have been a major issue for North Sea operators since before the price of oil fell to 11 year lows.
"The UK has not been as rigorous with its costs so things tend to be more expensive in the North Sea than in the Gulf of Mexico where it is a highly competitive environment," he said.
"And it's not just a little bit more expensive. It's a lot more expensive whereas that great competition you find in the US has driven costs down."
He said Ineos "has yet to fully understand why the rigs in the North Sea do not always operate", but that he is confident the firm will improve efficiency.
"We are yet to find out whether we can make an impact there," he said. "But we do have a proven track record in chemicals. And these are basically chemical facilities. It is in a difficult environment because it's sitting there in the North Sea but it is still pumps, pipes, vessels and filters and it deals with liquids and gases, which are our bread and butter."
The company confirmed it began looking out to sea for opportunities about 12 months ago.
"Obviously the collapse in the oil price helped to galvanise our enthusiasm but we have been thinking about it before that because we have quite a lot of tentacles that go upstream in one way or another," said Mr Ratcliffe.
Mr Ratcliff declined to say how much his firm might invest in further assets.
"We are not going to spend beyond our means," he said. "But when you are in the world of making acquisitions it is impossible to predict where you will finish up."
Recommended for you

UK Government to relax gas quality rules to boost North Sea supply