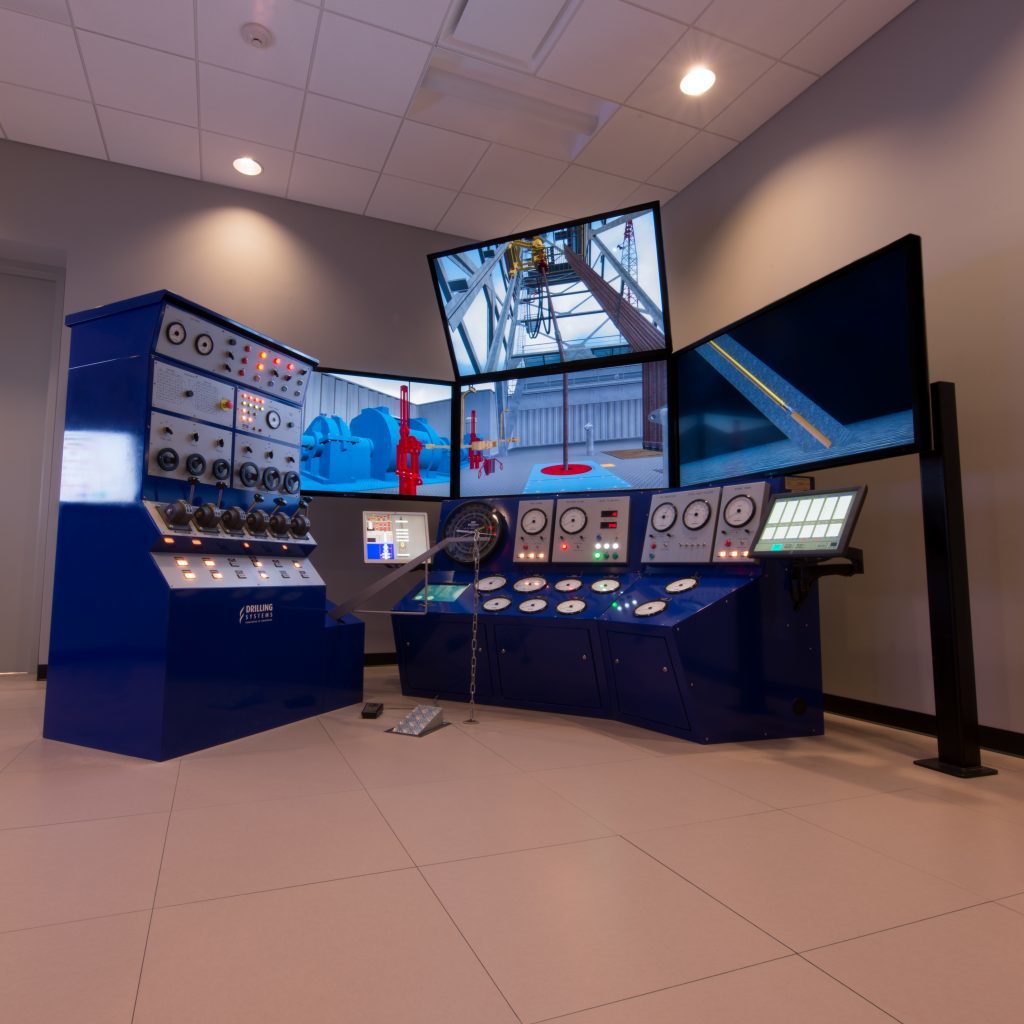 A new piece of kit that could strip down decommissioning costs is expected to be in Aberdeen in time for Christmas.
Oil industry drilling experts are scheduled to take delivery of a new simulator at Robert Gordon University (RGU).
They say it will be the world's first simulator designed for well decommissioning training.
RGU already has a simulation suite, known as Dart, which uses computer software, projectors and 3D graphics to offer a realistic drilling experience.
Maersk recently used the simulator to prepare for its drilling campaign on the Culzean field in the North Sea.
The new DrillSIM-5000 simulator that is expected to be in place before the end of the year will be able to mirror the characteristics of older rigs used for plug and abandonment jobs.
Peter Howell, drilling and wells excellence manager at RGU's Oil and Gas Institute, and Philip Hassard, Dart simulator manager at the institute, said the technology would "massively reduce" the cost of well decommissioning.
Mr Howell said: "There is not a huge amount of drilling going on in the North Sea, but there is decommissioning.
"We're looking at bringing in another simulator that's more like the older rigs used for well decommissioning in the North Sea.
"We will be able simulate whatever problems you are likely to find. It's all about performance and there is a focus on technology to improve decommissioning."
He said the simulators were perfect for helping drillers interpret rig data to make good decisions.
Mr Howell said: "The simulator is about training people to spot problems before they get out of hand. It tests human factors like communications, decision making and situational awareness.
"We can throw problems at the teams who come in, bring in behavioural observers and vary the seriousness of the problem. We have to put them under some stress to see how they work.
"Most of the work drillers do on a rig takes place when things are fine. Using the simulator, they get to see what things are like when they go wrong."
Mr Hassard said the decommissioning simulator's presence in Aberdeen will present an opportunity for teaching people skills and expertise that can be exported to other oil regions.
He also said authorities should prescribe mandatory simulator training for drillers ahead of North Sea well decommissioning jobs to reduce the chances of human error causing leaks.
"If the authorities did that, it would help the Aberdeen economy and help us become a centre of excellence that grows talent for export," he said.
The series so far:
Turf wars and the North Sea's next 30 years
Lerwick confident experience will tell in hunt for new work
Aberdeen harbour sees supply chain as its 'strong suit'
Gap between P&A and platform removal full of opportunities
Montrose to punch above its weight in decommissioning market