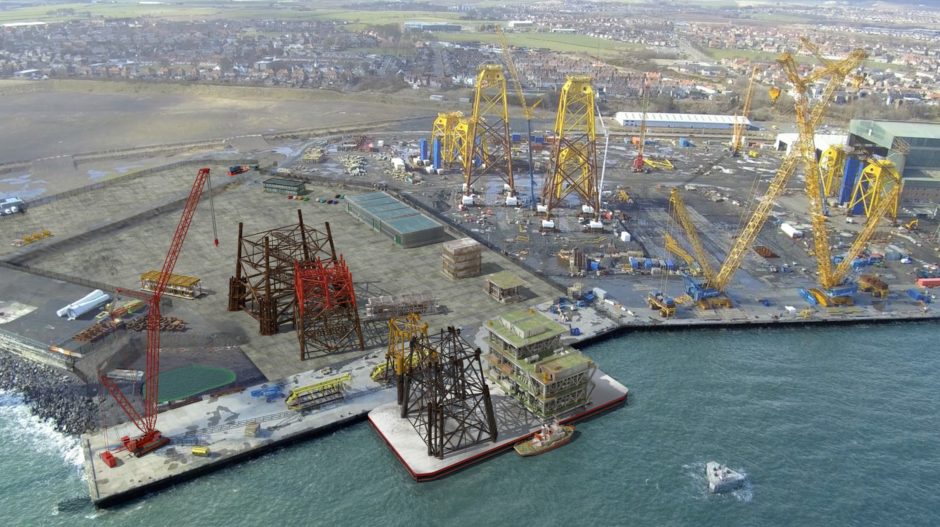 A new oil infrastructure decommissioning facility in Fife will be ready for action by the fourth quarter of 2020, as key licences fall into place.
Decommissioning firm CessCon Decom has received a waste management licence from the Scottish Environment Protection Agency (Sepa) for the base at Energy Park Fife (EPF) in Methil.
Authorisations for handling radioactive substances and discharging water are expected to follow soon.
CessCon chief executive Lee Hanlon said the company was participating in multiple live tenders for decommissioning projects and was looking forward to welcoming oil kit to the yard for scrapping next year.
Mr Hanlon said in November 2019 that he hoped to kick off decommissioning projects in the second quarter of this year, helped by a multimillion-pound investment in facilities at EPF.
At the time, he said the quayside would be extended and equipped with a strengthened concrete laydown and dismantling area boasting water collection and treatment facilities.
The Covid-19 pandemic has led to a slight delay, but Mr Hanlon said work to complete the construction of a dismantling pad and a new building for cleaning radioactive materials had resumed.
Dredging will be carried out to increase the water depth, allowing large barges to transfer oil platform topside modules and jackets onto the quayside, which will be able to accommodate loads of up to 20,000 tonnes at any one time.
Mr Hanlon said CessCon would be able to bid for projects of a similar scale to the Brent platform dismantling jobs being undertaken by Able UK on Teesside.
He has claimed the facility would create employment opportunities in Fife, with each project expected to generate 30-50 positions.
The company first signalled its intent in 2018, when it announced the signing of a head of terms pact with Scottish Enterprise and Fife Council for the project.
The two organisations have supported CessCon Decom with the planning, development and licensing of the facility.
CessCon Decom is a subsidiary of CessCon Ltd, registered in Scotland and owned by Mr Hanlon and project and operations director Frank Braaten.
Both men used to work for Norwegian firm AF Gruppen's decommissioning business before launching CessCon Decom, which has a base at Hunterston Parc in Ayrshire.
Recommended for you

AF Gruppen secures decom contract for North Sea platform