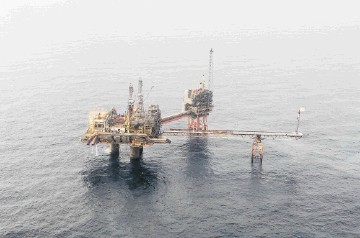 SO, APACHE has finally struck the deal that has generated so much speculation within the North Sea oil and gas community of late. It has agreed to buy the Beryl field off ExxonMobil; oh and much else besides.
There had been speculation for weeks of a deal being struck between the two companies and, only a few days ago, a fresh rumour claimed that negotiations had hit a wall.
However, the absence of Apache's North Sea boss, Jim House, from last month's OSPRAG conference here in Aberdeen was a dead giveaway.
Jim has in recent times put a huge amount of time and effort into the UK offshore industry's hydrocarbon spills prevention initiative. He was due to give the conference keynote. Oil & Gas UK's CEO, Malcolm Webb delivered it instead . . . and very well too.
So, not to be there was a sure sign that something important had come up at work. And sure enough, later that morning, came the announcement that Exxon had agreed a deal with Apache.
But the bit that was largely missed by the rumour machine was that Apache isn't just buying Beryl, it is purchasing the entire heritage Mobil UK North Sea Limited (MNSL) assets portfolio off ExxonMobil, including pipeline infrastructure and especially a stake in the SAGE (Scottish Area Gas Evacuation) system comprising not just pipeline infrastructure but also onshore plant at St Fergus.
That aspect is important because it means Apache now has a grip on a strategically important export route. When the company bought Forties off BP in 2003, the latter shrewdly kept the Forties pipeline system and has made a mint off it since. Doubtless to Apache's chagrin, even if not expressed in public.
On the other hand, under the steady hand of Jim House, Apache has made a tidy pile out of Forties, including proving up an additional 170million barrels besides the 160million known about at the time of the purchase off BP.
Prior to that sale, BP's then UK North Sea chief Steve Marshall told me that he envisioned a further 400million barrels being extracted from this North Sea veteran. He never got the chance to realise that dream, but perhaps Apache will and more, given progress to date.
As for Beryl, this is one of those classic North Sea stories where the initial reserves estimate turned out to be way too conservative, starting out as a few hundred million barrels but then turning out to be a great deal larger. A couple or three years ago, I remember ExxonMobil's then North Sea chief suggesting that Beryl could yet join the billion-barrel club. It passed that milestone in 2009.
Clearly he and the Apache top team in Houston see a worthwhile opportunity in the former Mobil North Sea Limited portfolio. Bear in mind that this is a very successful company, both on its home ground and in other parts of the world, including on the exploration/greenfield development front. And yet it still sees value in doing North Sea brownfield deals such as this, despite fiscal instability.
At this point, I have no idea how material the issue of field abandonments and decommissioning of infrastructure was during negotiations. But, given the current fiscal mess that characterises the government's approach to associated tax allowances, I'm guessing this was a significant factor and probably threatened at least once, the detailed negotiations between Exxon and Apache.
I would imagine that Apache has been somewhat cannier in its dealings with Exxon than was apparently the case with BP. Every industry is rife with rumours . . . some very persistent and which refuse to go away.
One such rumour claimed that Forties was in a poorer state than Apache had been led to believe and so a lot more money had to be spent straightening things out than had been budgeted for. But then the sale took place in the aftermath of the grand cost-cutting drives of the 1990s and the oil price slump at the end of that decade . . . a period that gave rise to the practice of planned non-maintenance, even if it was denied at the time.
But these are different times. Exxon has, through MNSL, actually invested quite heavily in Beryl, for example. Critically, this has included restoring the drilling package on the Alpha platform.
Indeed, in September 2009, Exxon said it was restarting drilling in the field and that up to $200million of capital expenditure was being committed.
The net result is that Apache should find that what it thinks it is paying for is in fact what it will get. And with the drilling facilities apparently in good fettle, Jim and his team can get after sweeping the huge field's remaining attics (pockets of hydrocarbons) and so-forth.
This is an important deal for the North Sea and clear demonstration that, even after 35 years of production, fields like Beryl can still be attractive commercial propositions to new owners.
The list of large/medium first generation North Sea fields to have changed hands since the mid-1990s is now quite long. However, the one field that isn't joining that role is Brent. Shell/Exxon developed it and Shell/Exxon will decommission it.