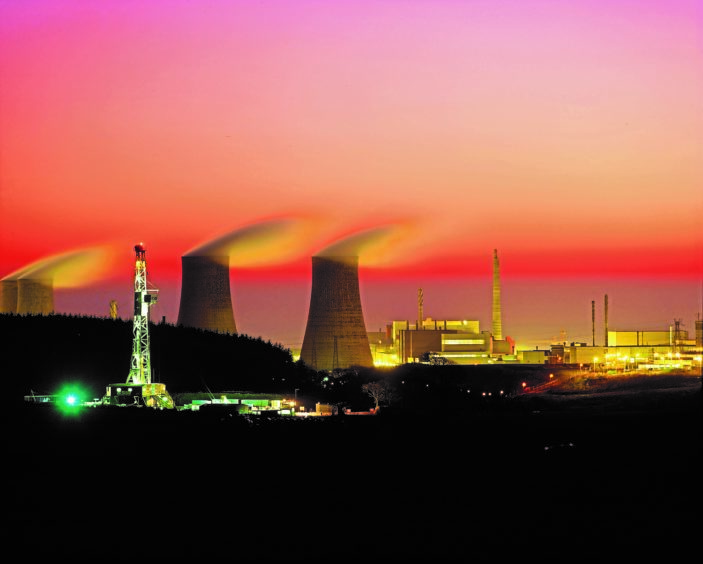 In the run-up to Offshore Europe 2019, I had a cracking conversation with Simon Gray, chief executive of the lively East of England Energy Group.
EEEGR is a multi-faceted regional industry trade body of a kind that is totally missing from the Scottish energy-scape today.
It's a pity as the integrated perspective is virtually absent north of the border.
Not that it stops some individuals from trying to convey the impression that they have a strong cross-sector grip, when they really don't.
Those same people are often dismissive of past efforts to drive home the criticality of the energy transition to the business community in Scotland, especially the oil and gas supply chain.
In Simon's case it's clear to me that he's an enthusiastic advocate of everything to do with energy within EEEGR's diverse membership; and that includes nuclear-based power generation, which is hugely important to his neck of the woods and has been for several decades.
With the prospect of Norfolk playing a linchpin role in the revival of civil nuclear in the UK based around Chinese reactor technology, of course he is going to push for high-end local content.
But he is also clearly aware of more, dare I say it, humdrum aspects of the nuclear opportunity now being rammed down all our throats by the Tories, stuff that is perhaps all too easily dismissed as grunt-work, like carpenters and joiners.
Such trades are in reality rather an important part of the energy transition juggernaut.
Without them, that juggernaut could so easily grind to a halt.
In the nuclear sector there are huge shortages of people in areas that one might not ordinarily consider to be a part of that industry, like carpentry and joinery.
Carpenters and joiners are responsible for the massive timber forms built for concrete pouring.
They are manufacturing patterns that have to be made with great precision, within fractions of a millimetre, according to Simon.
"It's in weird areas like that where you don't expect them that there are skills shortages," Simon told me.
EEEGR is working with companies such as nuke station operator EDF regarding what the core skills requirements will likely be over the next 20 years and to draft a roadmap on how to ensure those skills are put in place and reinforced.
Indeed, early this month, Simon expects the launch of a new £11 million all-energy skills centre in Lowestoft that will cover offshore wind, oil and gas and the nuclear new-builds.
However, unlike most gas projects and wind farms which are the bread and butter of energy activity in the southern North Sea region, that is not the case for nuclear.
Sizewell C and Bradwell B are not yet wholly done deals though groundwork is under way with contracts issued and limited employment generated.
At the end of July, for example, Atkins was awarded a £5m contract for preparatory works at Sizewell C for EDF.
It is the first programme of construction work to start at the proposed nuclear power station, which will be located next to the existing Sizewell B plant on the Suffolk coast.
The situation at Bradwell in Essex is more complex, with the original power station now being decommissioned and China Electric pushing hard to get the green light for the new B station.
In January, the new boss at Bradwell B peddled the claim that the nuclear plant "will bring significant benefits" to the community.
Alan Raymant, a local lad, claimed: "The need for the reliable, low-carbon energy that nuclear provides continues to grow strongly.
"Bradwell B will be a major part of Britain's energy future, powering the national, regional and local economy for many years to come."
The project is being headed by China General Nuclear Power Group and EDF. UK technology content will be very limited. Same for Sizewell C.
Neither project is slam-dunk. The case for their cancellation is very strong, not least that competitive civil nuclear is a total lie. There is no such thing as economic or environmentally responsible nuclear.
It is hugely expensive and most certainly not low carbon.
Until now, all nuclear plant– more than 650 reactors – around the world has ridden on the back of defence programmes and been subsidised.
And no one anywhere has solved the nuclear waste legacy, which is a trans-generational challenge and absolutely cancels out any of the contrived profit.
Moreover, early, high-capacity nuclear energy countries such as the UK, Canada and France have still not dismantled any of their reactors.
Calder Hall, the first commercial nuclear power plant in the UK, was commissioned in 1953.
It will not be completely dismantled until well into the 21st century.
Chinon-A, a French nuclear power plant, is not likely to be dismantled until 2056 – more than 100 years after construction began.
These stations spend more time as industrial sarcophagi than they do generating electricity and profits.
According to a fresh study published in July by Deutsche Welle of Germany, the challenges of the long-term storage of nuclear waste have been basically ignored, to the extent that today there are no long-term storage facilities for highly radioactive waste in operation.
In countries such as Germany, the UK and the US, the search for a suitable location has gone on for decades with governments all too ready to bribe communities to accept nuclear waste dumps on their doorstep, fortunately unsuccessfully.
Oh, and one more thing that no one talks about here.
Civil nuclear is virtually uninsurable.
So what if there is an accident?
The answer is simple. According to Deutsche Welle: "Society will be asked to bear a very large proportion of these costs. The fact that nuclear power plant operators are not insured against the risk of accidents makes this abundantly clear. Worldwide, there are no financial service organisations that offer insurance to them."
If only the carpenters and joiners working on Bradwell B and Sizewell C knew the truths of the nuclear back story.
Recommended for you
X

Oil & gas: a vital role in the transition to clean energy