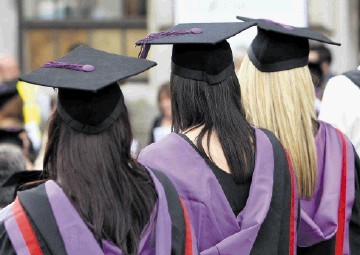 "The Queen pays her interns, Keith Vaz does not – there is no political predictability about who will fleece new graduates."
So wrote Zoe Williams in The Guardian on March 21.
And the Liberal Democrats have just been advertising for unpaid internships at party HQ, despite a supposed determination on the part of the current UK government to stamp out this odious practice.
The basic question comes down to, is it fair and, by the way, is it lawful in the first place to rip off potentials and especially graduates in such a manner?
If I, as a 16-year-old, sign up to a Modern Apprenticeship, I get paid. Not much, but I get paid.
And the government says so: "Apprenticeships are paid jobs which give you the chance to learn – and gain nationally recognised qualifications – while getting a weekly wage."
If I've just graduated from university after three/four years of study and look for a job, there is this disgusting view among employers that, because that person has little or no experience of the workplace, that somehow they cannot be paid, perhaps for many months, even though they have a degree and maybe two.
That's appalling and should be made illegal. As I recall, our PM David Cameron, made some pronouncements about unpaid internships and all that, early in the life of the current Westminster administration, though that appears to have gone rather quiet.
Meanwhile, here in Aberdeen, I stumbled across an example of a Robert Gordon University graduate being subjected to the very same practice.
I was approached by the PR front of recruitment firm Morson saying he had a nice story for Energy and was I interested. A footnote to the news that the firm had set up an oil and gas office in Sao Paolo, Brazil was the fact that Morson had also offered a candidate unpaid work in Aberdeen before eventually going on to offer him a full time position.
I was then told that, basically, Morson had launched its "very own X-Factor competition in partnership with RGU" to find a graduate looking to move into the recruitment industry.
"Calum Wilins was the eventual winner and he joined Morson on a voluntary basis working for nothing for the first few months," said the PR front, though that turned out to be three weeks.
"Sarah Hutcheon, the branch manager at Morson in Aberdeen, has now been advising graduates to follow Calum's lead by offering to work for free to allow them to build up industry experience. She has held recent talks at RGU and Adam Smith College."
My response was robust. How dare Morson, let alone any other company, rip any graduate off in such a manner.
Moreover, I said that if I was a kid out of school and signing up with a plumber or electrician I would get the minimum wage. This guy (Wilins) got zip!
Originally, I had intended to become a lawyer. I went to law school then on to a firm of solicitors as the lowest form of life to learn the practical ropes. They paid me. That was the practice then.
Graduates are often told they don't have the necessary experience even for entry level jobs. How can they gain the experience if they aren't given a chance in the first place and paid. OK, so they make mistakes, but may I remind all of you that Britain is in the current disgusting mess because people at the top screwed up big time. And they're supposedly highly experienced. Oh and paid a fortune in many cases.
But graduates are expected to work as virtual slave labour . . . for nothing.
And at an oil and gas recruitment agency in Aberdeen too.
That is breathtaking in its audacity and cheek.
The 1.5 generations that Sarah Hutcheon and I belong to have a lot to answer for as we have really messed things up for the upcoming cohorts of graduates, one of whom is my daughter who will likely come out of St Andrews with a First in a few weeks.
I shall be advising graduates that I encounter NOT to follow Ms Hutcheon's example.
I asked her for a response. Here it is . . . in part.
"Any paid or unpaid internship is not dependant on an individual's financial security or circumstance. It is about giving that individual the opportunity to work within an organisation in order to assess a number of key factors.
"These include issues like establishing whether in this case, the recruitment industry is the right vocation for them. This also gives them relevant work experience that they can then use to enhance their CV to demonstrate their efforts to shaping a future career.
"In Calum's case he had approached a number of recruitment agencies who all recommended that he came back when he had gained valuable industry experience. We made the decision to give him an opportunity and after a short period of just three weeks he became a permanent member of staff."
"At the time when we were looking to recruit we thought what better way to achieve that than to offer a talented young candidate the chance to prove their worth.
"Being given an opportunity to work in an office environment even in a voluntary position at first is certainly a lot better than rejection e-mails, rejections at interview stage or even worse not hearing any sort of response at all and Calum agrees with this viewpoint."
Guys like Calum don't have any choice but to agree.
I sincerely hope that the North Sea oil and gas industry refrains from such sharp practices, even if those that service its needs, like recruitment firms, embrace it.