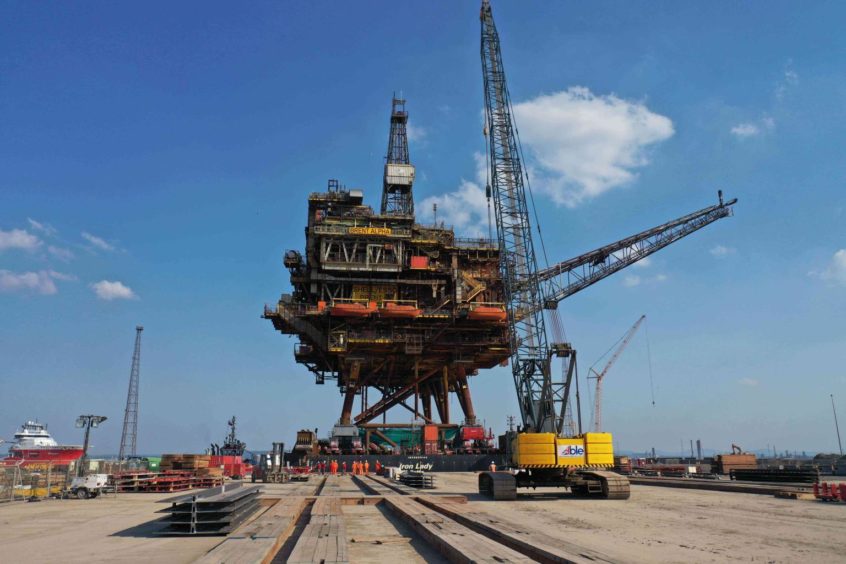 That fatalities and serious accidents are occurring in UK and Norwegian offshore installation decommissioning facilities comes as no surprise.
That it is happening despite there apparently being "sufficient" law and local regulations to make sure the work can be done safely is also unsurprising.
It is significant that Shell is alive to the issue, given that three of the four Brent production platform topsides units have been given to Able UK since the first, Brent Delta, arrived at Teesside in May 2017.
A few days ago, EV picked up on remarks made by Brent decommissioning project director William Lindsay at the Decom Offshore conference.
He said Shell wants to "nudge the industry" to develop common ways of working for this particular area of decommissioning, something reflected by Steve Rae of Step Change in Safety.
Rae wants decommissioning yards to "deliver HSE performance that is equal to that of the offshore sector, which is simply not in keeping with the waste and recycling sector's current or historic track record".
That's a huge ask, in my opinion. It is going to take every operator out there in the North Sea working in concert to bring about such a sea change.
Let's assume they all decide to get around a table and collectively resolve to do something about the problem. How long might that actually take to achieve, bearing in mind that it took Piper Alpha and the resultant Cullen Inquiry to shock a complacent brotherhood of operators into action on the UK Continental Shelf.
I would argue that, since then, it has been a relentless battle to hold the focus on safety, with operators all the while denying any claims by offshore workers that it was really money that came first.
Piper haunts the North Sea. But it does not reach onshore into decommissioning yards. Nor is the decom industry likely to suffer massive casualties, even in a major yard incident. Manning levels are invariably very lean.
I suspect that, even in a worst case situation, the likelihood of more than a handful or so casualties as a result of something going wrong on an inert, dead structure is pretty remote.
That is not the stuff of the big headlines to shock relevant parties into action.
Platform decommissioning is a lot like ship dismantling.
Because of ship breaking's terrible reputation, the idea of a European financial incentive for ship recycling was mooted some years ago. The NGO Shipbreaking Platform suggested it might be one step in the right direction.
There is big money involved. Vessels, including drilling rigs and oil production ships, broken up on Far East beaches can fetch millions of dollars more than if they were dismantled in European or American yards.
The EU has tried, through various legislative measures, to ensure that EU-owned vessels are safely disposed of, but it has been a struggle.
The 2013 Ship Recycling Regulation notably requires all vessels flying an EU flag to be dismantled in a facility which has been EU-approved.
It took many years to get that far, which is why I'm sceptical about North Sea operators achieving the kind of safety sea-change that William Lindsay and Steve Rae want.
Enforcement won't work; but perhaps deep immersion of decommissioning yard bosses in the safety ethos of the North Sea as we currently know it might help a bit.
But then how does one transmit to, let alone achieve the buy-in of a workforce that is, by any North Sea standard, poorly paid, at least in the UK, and unlikely to be as responsive to their bosses as offshore workers generally are?
Earlier, I said it would require every North Sea operator to get onside before any kind of progress of the kind Lindsay and Rae advocate is possible.
However, do not forget, this is an industry that would if it could, get everything dismantled in far cheaper places than the UK or Norway or any other EU destination for that matter. After all, much of it was built in Asia-Pacific to start with, because of price.
According to the Recycling Outlook report published last year by NGO Shipbreaking Platform and which focuses on stuff that floats, the oil and gas demolition market is dominated by a small number of countries globally.
Report authors said: "The top scrapping destinations for oil and gas units are South Asia and Turkey, which have carried out 79% of all scrapping operations in the last four years. Out of the 185 oil and gas assets (including numerous drilling rigs including the Ocean Alliance built on the Clyde) have been identified as broken up since 2015, 79 ended up on the beaches of South Asia (alone)."
This includes the FPSO Northern Producer, which was illegally scrapped in 2016 on a beach at Chittagong, Bangladesh.
Operators like to paint themselves as top drawer, whiter than white. Yet they are clearly perfectly happy to let companies whose services they routinely hire, notably drilling rigs, scrap at the cheapest beach yard possible.
So, other than Shell expressing concern regarding North Sea decommissioning yard accidents, I wonder how many other operators will really care that much.
I'm rather dubious that they will.
Recommended for you

MARS bags award for Banff FPSO decommissioning