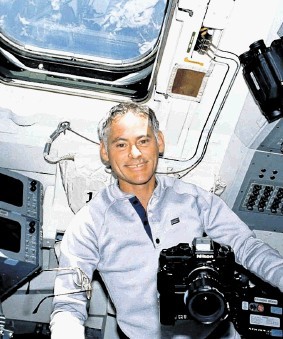 It must be many a small boy's dream to become an astronaut: to explore the unknown, to use fantastic technology and gadgets and to push the boundaries of man's capabilities.
Sadly, not all of us are destined to fly to the moon. But I'm not the first to raise the similarities between that great entrepreneurial industry and our own. We too go further than any others have gone before, the pioneering technology developed in the oil and gas sector has paved the way for advances far beyond the reaches of our own sector.
One of the most striking connections, however, relates to the high importance both industries place on safety. It is with this in mind that I am eagerly looking forward to welcoming world-renowned astronaut Colonel Mike Mullane to this year's OPITO Safety and Competence Conference (OSCC).
This year's theme is "Managing the Safety Chain" which will explore how the oil and gas supply chain could pull together to deliver effective management of a safe and competent workforce.
A veteran of three space missions, Col Mullane began his working life with the US Air Force and flew 134 combat missions. With NASA, he completed missions aboard the Shuttles Discovery and Atlantis. He is now a highly regarded speaker on the subjects of safety and teamwork.
The safety chain experience of space flight, and particularly that of astronauts and their reliance on others to ensure a safe working environment, has a real relevance to the potential hazards in the oil and gas industry.
I think he is going to bring a highly informative and different perspective to this year's conference which I hope will stimulate animated debate among all those attending.
We will also hear from fellow speakers Steve Walker, head of the UK Health and Safety Offshore Division, and Dr Elie Daher, executive vice president at United Safety International. From them, the responsibilities of each element in the safety chain, how it is shaped and developed to ensure effective management of a safe and competent workforce, will be addressed, with an examination of the roles of the industry regulator and international operating companies along with contractors and individuals.
The programme will also include Troy Nugent, Senior Director, HS&E, Middle East Region for Baker Hughes and Dr Brent Pasula, Vice President of health, safety, security and environment (HSSE) for Petrofac's Engineering, Construction, Operations, and Maintenance division.
As well as unveiling our new research into best practice improvements in workforce safety and skills, the conference will unveil the winners of the OPITO Safety and Competency Awards which seek to recognise employers who have helped improve safety and competency through the use of OPITO standards.
The OPITO Approved Training Providers Award will also be presented to training providers who have improved their delivery to ensure safe and competent workers.
With interest in the awards coming from across the globe, we have decided to extend the deadline for entries until September 7 and I would urge you to enter and to share your successes with us.
The awards will be presented at the conference in Abu Dhabi on November 20.
Ours is a great industry. Whilst we continue to keep our feet on the ground and recognise the challenges we face, we should be rightly proud of what we have achieved and be open to learning the lessons from other industries whose spirit of enterprise and endeavour so closely mirrors our own.
David Doig is group CEO of OPITO