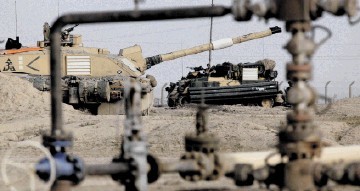 I have spoken many times over the years about the importance of establishing one common set of industry standards for safety and competency in oil and gas around the world.
Recognising that our industry has a common goal when it comes to safety and technical skill and can share the lessons learned by others will only serve to ensure all people engaged in exploration and production activities in every part of the world can go to work and come home safely at the end of the day.
It is important to remember, however, that while the overall goal is the same, every region has its own needs and challenges which must be addressed.
Last month, Opito signed a landmark agreement with Petronas, Malaysia's national oil company, which marks the start of a new era in safety, technical training and strategic competency development for the country's offshore workforce.
While this is another significant step towards reinforcing our reputation as a global influencer and recognised authority on oil and gas skills, importantly it is further demonstration of how we are increasingly working with international operators and governments to develop local populations.
Last June, Opito signed a high-profile agreement with the Iraq Ministry for Oil, Training and Development Directorate to help the war-damaged country develop the skills and training necessary to enable exploitation of its hydrocarbon resources.
The vision has always been to ensure that the people of Iraq can obtain the skills, knowledge and qualifications needed to access jobs in the country's oil and gas industry for now and in the long-term future and we have taken great strides in the last 16 months towards achieving that.
We are currently supporting the Iraq International Oil Companies (IOC) Forum in the upgrade of the Al Khaseeb vocational training centre in Basrah and providing guidance on its primary goal of establishing a collective approach that integrates resources to deliver world class oil and gas vocational training based on the delivery of world class industry standards and others as appropriate for each specialised discipline.
The new agreement with Petronas follows the same discussions we are currently having with the collective operators, NOC's and government agencies in Oman, Indonesia and elsewhere as they seek to build and grow their people.
In each case, we focus on four key objectives:
o To enhance the employability of the local workforce by equipping them with relevant oil and gas industry skills based on internationally recognised standards;
o To increase employment through world class training and skills development which is directly related to job roles within the region;
o To build a foundation for establishing a self-sufficient learning infrastructure that can serve the sector long term;
o And to provide internationally recognised qualifications and certification that are accepted both locally and globally to enable a fluid movement of the workforce across all major construction projects.
Ours is a global industry. While these efforts reinforce the UK's position as best in class on the worldwide stage, the biggest gain is in equipping local workforces with the skills needed to secure good jobs in the oil and gas sector and access to the internationally-recognised standards and qualifications which ensure they can perform them safely.
David Doig is group chief executive at OPITO
Recommended for you

OPITO launches new lifting standards for the wind industry