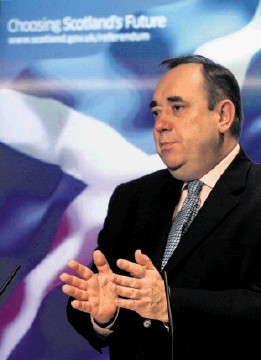 In Autumn 2014, the people of Scotland will have a chance to vote on Scottish independence. For those of us in Aberdeen, among the many issues to be considered in casting our vote will be the implications for the oil and gas industry.
The potential economic benefits or costs of such a change will be extensively debated in the coming months, but I set out a brief introduction to some of the legal consequences of independence for our industry.
In summary, of course, all legal hurdles can be overcome but there will also be a lot to do and think about. Read on.
A vote favouring independence would lead to the negotiation of an independence statute or treaty. In order to avoid a legal vacuum, where parts of the British Empire have become independent, the independence statute has provided that (with specific exceptions) all Westminster legislation applicable immediately before independence continued in force unless and until repealed by the legislature of the newly independent state.
For Scotland, this might also be achieved by an Act of Independence of the Scottish Parliament. But whatever the method, it seems likely that, for instance, the Petroleum Act 1998, and licences issued under it, would continue to apply following independence unless and until the Scottish Government chose to alter them.
However, a somewhat long-standing esoteric argument among lawyers as to whether licences are regulatory or contractual in nature would suddenly become a very practical one as, if contractual, licences for the Scottish sector would need to be transferred from the UK Government to the Scottish Government.
Particular issues would arise in relation to the transfer of rights and obligations in relation to those licences (and in particular, producing fields) which straddled any putative delimitation line between the remaining parts of the UK and a new Scottish state.
For cross-border fields, a new treaty would be required between England and Scotland similar to the existing treaty between the UK and Norway which addresses issues such as jurisdiction, consenting, HSE standards and decommissioning. Taxation would need to be addressed by a double taxation treaty between the two nations.
Until such aspects are addressed, investment in cross-border fields and licences would be inhibited and there would be the risks of competitive drilling or of licensees taking advantage of any arbitrage available between the two regimes particularly in fiscal terms.
A new treaty between Scotland and Norway would probably also be required to address the affected fields in the Scottish sector.
A Scottish administration would not wish to unsettle the industry by making precipitate changes to regulation; indeed SNP ministers have made comments to the effect that no changes in the fiscal regime would be made without consultation.
But, given statements from SNP ministers about the significance of the oil and gas industry to the Scottish economy and the potential benefits of increased oil and gas production, a new Scottish Government might in due course seek to place increased obligations on operators whether though licence terms or through the tax system. Any uncertainty as to the future policy of the Scottish administration in this area could have a significant chilling effect on investment.
Critical would be clarity with respect to tax relief on decommissioning of infrastructure.
The industry has devoted much time and energy over the past two years to negotiation with the UK Treasury of decommissioning relief deeds to provide certainty on tax relief – an effort matched only by the commitment of the Treasury to the process. The deeds are expected to be implemented this year.
Many of the more expensive installations to be decommissioned in future years are in the Scottish sector.
However, the SNP has indicated that it supports this project and would honour the deeds. But this would be subject to the negotiation of an agreement with Westminster regarding the sharing of the liability. And if this negotiation could not be successfully concluded, it could have serious implications in terms of a return to pre-tax security (which in turn could trigger defaults under security agreements) and possibly premature decommissioning.
One of the urgent tasks of an incoming administration would be to replicate the various UK departments and quangos, including its own equivalent of DECC and the HSE.
The oil and gas team at DECC is, even now, often overstretched and if the department had to be split into two organisations capable of doing the same job in separate jurisdictions this would likely require significant additional staffing.
But recruitment is a challenge for DECC today given that it competes for staff with a very high-paying industry; likewise the HSE. There would be the potential for a significant chilling effect as a new administration struggled to find the staff to address issues like licence applications, transfers, drilling consents, safety cases and the like.
The prospect of Scottish independence also raises a wide variety of international law issues. For instance, there are nearly 14,000 treaties currently in force for the UK.
The international law regarding succession to treaty rights is unsettled, and treaties are often silent on this issue – hence the spat between Edinburgh and Westminster over precisely what would happen over EU membership. It seems likely, however, that the remainder of the UK would be viewed as the continuing state party to these treaties.
An independent Scotland would therefore need to decide which of these treaties were relevant and seek to renegotiate replacements. In particular, investors in the offshore oil industry might no longer be covered by the nearly 100 bilateral investment treaties which the UK has concluded with other countries and which provide for reciprocal protection on various issues.
An independent Scotland would need to agree its maritime boundaries with the rest of the UK.
There would undoubtedly be conflicts affecting licensed areas in the North Sea and possibly the Irish Sea.
If Orkney or Shetland did not join an independent Scotland, the situation would be even more complicated.
If no boundary could be agreed and the matter went to arbitration or the International Court of Justice, such cases can take up to 10 years to conclude.
Edinburgh and Westminster could, alternatively, agree to create a joint development zone or international unitisation in the North Sea, as the UK and Norway have done, but this would also take a lot of negotiation.
To a large extent, these legal issues are neither positive nor negative for independence but simply issues that people need to be aware if they are to cast an informed vote and which would need to be managed if the decision was in favour of independence.
All of this is perfectly possible but for a small administration it would all take a long time to resolve – and in the meantime investors would face considerable uncertainty.
Penelope Warne is head of energy, Aberdeen & global at law firm CMS Cameron McKenna LLP