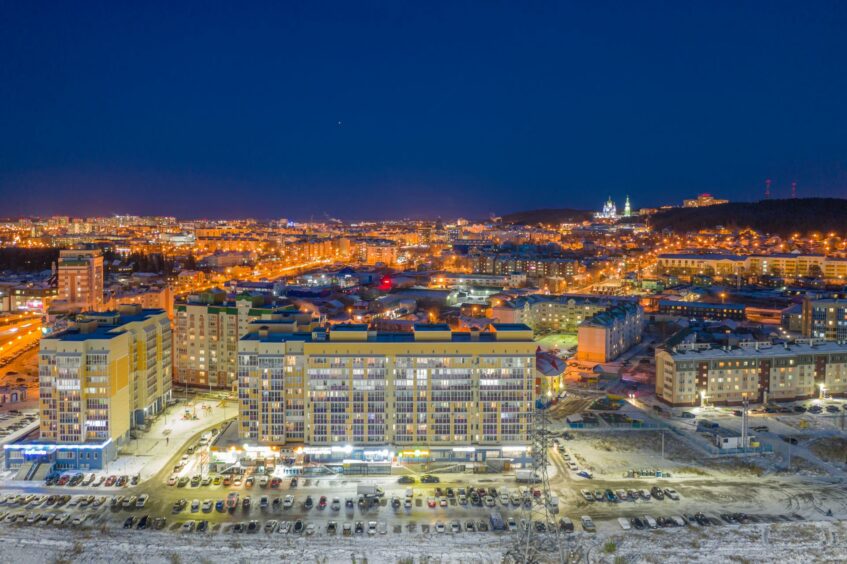 A ministerial visit that's long stuck in my mind was to a city called Khanty-Mansiysk far to the north in Siberia. You haven't heard of it? Well, join a very large club to which I belonged before going there.
Two facts stuck in my mind. The Ogruk, or region, around Khanty-Mansiysk is the size of France and if it was an independent country it would, at that time at least, have been the second biggest producer of oil in the world. Try these in a pub quiz.
A lot of oil people will, of course, know about Khanty-Mansiysk but its relative obscurity is reflected in the fact it is probably the only oil city in world where you won't see a single American, or probably a Brit either.  This was the centre of the old Soviet oil industry and, as its proud people were keen to point out, they had done it without help from anyone. "So please don't underestimate us".
I've thought about that visit recently because of the lessons it taught. Beyond oil and gas, the Khanty-Mansi region is inconceivably rich in minerals. They had not even got round to quantifying them though the headquarters of their equivalent of the British Geological Survey is located there.
Underestimating Russia's wealth, most of it still under the ground, is a fool's errand and the west had become so dependent on this unlimited source of supply that it is now equally self-delusory to think we can cut ourselves off from it without ramifications throughout our economy, on a scale not yet realised.
The other uncomfortable side of that coin is to recognise that Russia is a very rich country. It may be a mismanaged kleptocracy, but it will not run out of money as long as it can access its own resources and find markets to sell them in.  The fact it has used that position to create so much dependence in the west has created many current dilemmas – moral, political and economic.
Germany's dependence on Russian gas is the most conspicuous example – a relationship which, as I have pointed out here previously, is a product of the Greens' hold over German policy-making over the past 25 years.  They didn't care where power came from as long as they could satisfy their raison d'etre which was not to save the environment but to close down Germany's civil nuclear industry. How very, very short-sighted.
While it is fashionable to point to Germany's lack principle in not closing down Russian imports, they are not alone in delaying action.  According to Greenpeace researchers, the UK has imported £220 million of Russian oil since the war against Ukraine began and the most the government will say is that they hope to phase these out by the end of the year – modest consolation to Ukrainians on the front line.
Yet the politics and economics of boycotts are never straightforward. If Russia can sell to other markets, they still get the money and also have increased leverage to raise the price. These are arguments used, for example, by Japan which is heavily dependent on gas imported from the Sakhalin project to the east of Russia with which many Scottish offshore workers are familiar.
The Japanese industry minister said: "We are concerned that if Japan withdraws from the project and the concessions are acquired by Russia or a third country, it could further boost resource prices and benefit Russia, which will not result in effective sanctions".
Mr Hagiuda's comments followed reports that Shell is on the point of selling to Chinese companies its stake in Sakhalin which supplies eight per cent of the world's LNG.  "If the concessions are transferred to a third country, the withdrawal would not be a major blow to Russia, and our concerns will become a reality," said the Japanese minister.
That's hard to argue with but so too is the perception of western companies funding President Putin's war machine, which is why they are under intense pressure to pull out. The logic is that when all this is over, the configuration of western business relations with Russia – and the geopolitical implications that flow from them – will be very, very different for a generation to come.
Where does all this leave "net zero" targets. Well, frankly, not in a very good place. One by-product of the Ukraine war and the insecurity of gas supplies is that more coal is being burned than at any point in the past 20 years. There was a trend in this direction over the past year because of rising prices but the Ukraine imbroglio has accelerated it.
Meanwhile the minerals used in batteries, windmills and solar panels are in short supply – and very expensive as confirmed in a report commissioned by Eurometaux, an industry body. Its president said: "There is a risk with the geopolitical developments we are seeing around the world that Europe will not have the metal for its climate programme".
Global shortages of lithium, cobalt, nickel and copper are expected to emerge over the next 15 years. I have a nasty feeling that Khanty-Mansiysk is awash with them all.
The horrors of Ukraine cannot be seen solely as the deranged actions of an authoritarian regime. Russia, we can safely assume, is aware of its own long-term strategic strengths which they have used skilfully to create an unwise degree of western dependency.
Having seriously under-estimated the potential for that strategy to backfire, western Europe now has to be very smart, very fast, in finding new ways to adjust to it.
Brian Wilson is a former UK energy minister.