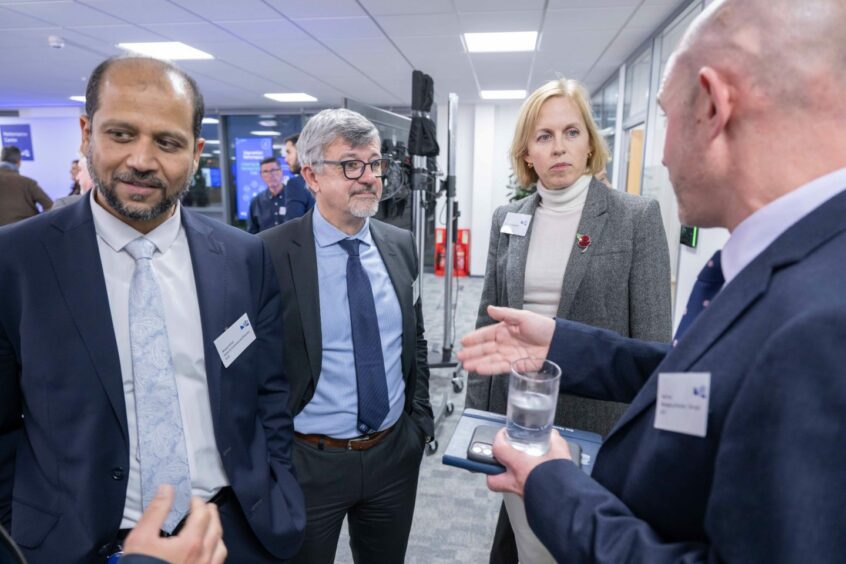 Over the past 50 years, an amazing array of companies has developed to support North Sea operators throughout the lifecycle of oil and gas production. Companies have long been and continue to evolve to support the low carbon energy systems of the future
Working together through initiatives including the North Sea Transition Deal, our priority is to ensure this world-class supply chain is fit for the opportunities ahead.
From small to medium enterprises with niche capabilities to major contractors delivering integrated oilfield services, the UK oil and gas supply chain is world renowned for its innovation and ability to solve complex challenges. These are the skills and capabilities that have helped oil and gas operator companies on everything from searching for oil and gas deep below the seabed to building immense offshore platforms– to designing new ways to carry out complex operations using artificial intelligence.
A huge, diverse spectrum of companies has evolved to support all these phases of oil and gas production from exploration, field developments and operations plus decommissioning, underpinned by support services including commercial, logistics and HSE.
Most of these capabilities are directly transferrable, or easily adapted, to new energy industries including floating offshore wind, hydrogen and carbon capture and storage. Indeed, many UK supply chain companies are already active in these young and emerging sectors. They will be critical in our efforts to deliver a carbon neutral basin by 2050.
The waters around the UK have long been a fertile seedbed for companies to invest, enabling business growth which brings big benefits to the wider economy. Recent research revealed the oil and gas industry contributed £28 bn gross value added (GVA) to the UK economy providing jobs for more than 200,000 people across the country.
We now look to a decade of delivery as we 'up the ante' on the energy transition.
This industry is already developing a world-leading all-energy supply chain but the race is on, and the UK needs to catch up with other countries who are moving faster if we want to anchor our supply chain in the UK and secure jobs here.
As representatives of the sector, we are working with regulators and acting now to help grow the confidence of companies as they balance the future of oil and gas in the UK alongside accelerating the growth of renewable energy sectors. To make major investment decisions, businesses need to see the long-term prospects are attractive. At the heart of all of this is our work with governments, politicians and other stakeholders whose support we need to unlock a truly homegrown transition.
Several key areas require our attention. Firstly, we need to boost the supply chain's confidence about the future and encourage better commercial relationships between suppliers and the clients they support. Right now confidence is low.
Feedback from our supply chain sentiment survey highlighted concerns. Suppliers cited crippling cost inflation and poor visibility of future business opportunities both in oil and gas plus emerging energy transition activities for offshore wind and hydrogen.
Around 70 per cent of medium sized companies are unconfident about growing their UK business, a sentiment echoed by 60 per cent of small to medium enterprises (SMEs). Worryingly, over 75 per cent of companies including engineering providers, drilling and well services contractors, manufacturing and subsea specialists are reporting faster business growth and higher levels of activity in international markets.
It's good to see UK expertise recognised around the world but these trends suggest that rather than anchoring themselves here, more companies may move abroad to where the work is, especially now the windfall tax has led some to question the economic viability of remaining in the UK.
To create a clearer picture of the opportunities ahead, together with RGU Energy Transition Institute, we're developing the Supply Chain Roadmap to provide a framework for the transformation of the supply chain over the next decade. Alongside the North Sea Transition Authority's Pathfinder tool that provides data on live tender activity on the UK Continental Shelf, we believe these tools will help our supply chain plan more effectively.
To help showcase the capabilities of the oil and gas supply chain, and raise awareness of the where they can grow their businesses and the help they require to do this successfully, OEUK published its first ever Supply Chain Carbon Capture &Storage Capability & Capacity report. Commissioned by the Department for Business, Energy and Industrial Strategy (BEIS), it revealed that offshore oil and gas supply chain companies already have some capabilities in areas including plant design and engineering, plant fabrication, and construction.,
To help raise visibility of, and confidence in, future oil and gas and energy transition opportunities, we're bringing back the hugely popular Share Fair. Taking place in Aberdeen on February 2, this is our flagship business development event, offering suppliers invaluable access to key decision-makers, while major clients gain insight of enterprising new entrants to the supply chain and innovative value-adding technologies.
To help ensure a resilient supply chain we can improve the way we do business with one another. OEUK's ten Supply Chain Principles outline good practice and help promote a culture of collaboration and trust between suppliers and their customers. They encourage businesses to pay each other on time, avoid expensive, protracted tendering practices and encourage companies to treat each other fairly.
Feedback from our Working as One Survey helped us understand how companies are applying these principles. While there was a 10% improvement in adhering to the principles, there has been no real progress in vital areas that are central to ensuring company balance sheets are strong and are well placed to invest in Research and Development.
Supply chain companies are battling contracts which are leaving them owning a disproportionate amount of risk, innovation is being stifled because tenders are too rigid and companies are not being paid to agreed timelines.
We've established three task finish groups to tackle these issues and they will focus on shining a light on the good practice and showing better ways to do business and unlock the full potential of the supply chain.
Alongside all these efforts, we've had to deal with the impact of fiscal unpredictability. In May, the government introduced the Energy Profits Levy, which added a 25% surcharge on the profits the oil and gas sector is making. In the Autumn, that rose to 35%.
These are fiscal challenges that threaten our ability to create a globally competitive supply chain and attract the investment we need to maximise our domestic resources and anchor our world-leading supply chain in the UK. Long-range thinking is essential if we are to build a secure affordable low carbon energy system in the UK.
If we want to capitalise on our collective strength to find new energy solutions, we need to think differently and act differently. The North Sea Transition Deal has given us a doorway to a more collaborative culture – this is key to maximising the potential of the supply chain, to strengthening our resilience and ensuring our success as we transition to a net zero future.
The speed and cost of the plans for transforming our energy systems is immense, and we'll need support from a government that is committed to stable long-term regulatory, polices and a clear and predictable tax regime. Only by working together with a long-term perspective can we help the UK to reach net zero by 2050.
Recommended for you

Mocean chooses TEXO for wave energy fabrication work