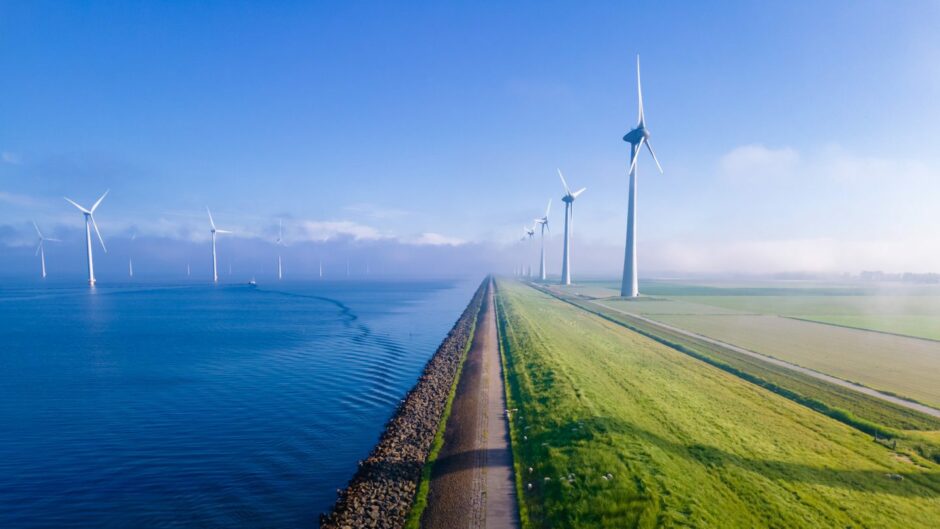 Small is beautiful but it's also nice to be part of something bigger. That applies to many aspects of life and is certainly a sound basis for energy policy which always has to be underpinned by security of supply.
We can produce as much renewable power as we fancy but there is limited point if there is nowhere to send it. I have witnessed that in microcosm in the Western Isles where the vast resource lies largely untapped for want of an interconnector. Hopefully, that deficit is about to addressed but it has taken a long, economically critical time to get there.
The same principle applies to Scotland's renewables potential as a whole. Maximising it depends on the infrastructure which will carry the power to markets, particularly but not exclusively, to the whole of Britain.  That remains a formidable, costly challenge but offshore windfarms will not be built until the certainty of each supply route is confirmed.
The ScotWind programme can scarcely be described as "small" but it too fits within a wider pattern which could help us meet all three pillars of a 21st century energy policy – security of supply, affordability and carbon reduction; not just in our own right or as part of the UK but within a much wider European context.
We need to stop thinking of the North Sea as a territory divided into national entities but to recognise the whole as much bigger than the sum of these parts. That at least was the view expressed by the EU Commission president, Ursula von der Leyen, when she spoke in the Belgian seaside city of Ostend a couple of weeks ago.
"Europe has become the powerhouse of renewables and the North Sea is becoming the powerhouse of Europe", she declared.  There are a few parts of the world which might challenge the first part of that claim but it is the second which is of growing relevance. The idea of a North Sea "supergrid" which pools the energy resources of coastal countries is now very much on the agenda.
To prove it, the heads of ten governments assembled at a North Sea Summit in Ostend to sign a declaration.  It should have been 11 but the shadow of Brexit looms large and the UK Government was represented by the Energy Secretary, Grant Shapps.  We weren't there at all last year for the first of these Summits, so maybe that's progress.
The Ostend Declaration, to which Mr Sunak was a signatory in absentia, envisages the North Sea as "Europe's Green Power Plant delivering cross-border projects and anchoring the offshore renewable industry in Europe". In other words, it is not a single grand design but a jigsaw which eventually will come together as a united powerhouse, guaranteeing green, secure energy to all.
To give substance to the vision, various deals were signed in Belgium.  The UK's National Grid and its Dutch counterpart signed up for a new interconnector which will feed off windfarms in the North Sea. Norway and the EU concluded an energy sharing deal. Each country declared its commitment to the scale of renewable generation – in the UK's case, 50 GW of offshore wind by 2030.
The scale of commitments agreed in Ostend are mind-boggling, not least in terms of investment required. So make no mistake, ScotWind projects will be operating in a competitive environment which makes it all the more essential that public infrastructure is in place that allows them to happen. Are we ready for that challenge? I would like to see a lot more evidence of a strategic approach.
Another crucial feature of the Ostend proceedings was the focus on manufacturing.  If the European Commission is putting its shoulder to that wheel on the scale implied,  then the UK needs to be part of that approach and not again sidelined as an importer and supplicant rather than sharing in the huge industrial potential.
Ms von der Leyen spoke of the Commission's Green Deal Industrial Plan; its Net Zero Industry Act "to create a conducive environment for clean-tech industry" and its  Critical Raw Materials Act which "aims at securing the supply of the materials that are so badly needed to build wind turbines and other clean tech". She referred to green hydrogen as "a game-changer for Europe".
On all these fronts, we need to wake up to the reality of pan-European momentum of which we should be part.  All of this is moving ahead on a European basis and it is hugely in Scotland's and the UK's interests to be fully engaged.
As John Donne wrote: "No man is an island, entire of itself; every man is a piece of the continent, a part of the main".  That just about sums up an energy future in which we will be just one component within the North Sea powerhouse.
Green hydrogen can be the game changer for Europe, our industries and our economy. And the North Sea region has the potential to produce massive amounts of green hydrogen and to become the main corridor for imports.
So of course, I am very happy and I would like to invite the countries represented here today to work on cross-border hydrogen projects. The Commission is ready to support as much as possible. In parallel, we will make sure that the Hydrogen Bank, that we will create, is operational by the end of this year, to create a full-fledged European hydrogen market.
Brian Wilson is a former UK energy minister
Recommended for you

Can oil ever be green? Norway turns to wind-powered drilling