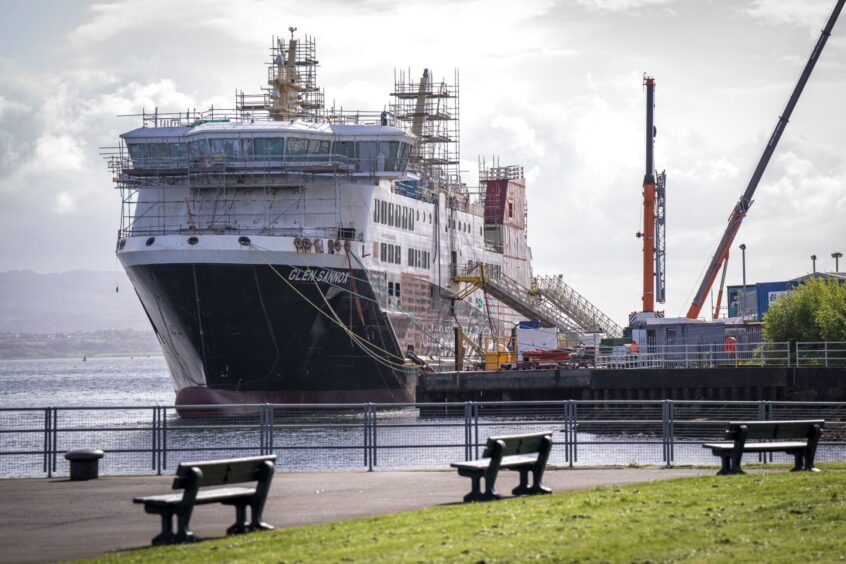 One of the many sub-plots in the saga of two uncompleted Caledonian MacBrayne ferries at the Ferguson yard in Port Glasgow involves the proposed use of Liquefied Natural Gas to part-fuel them.
Back in the day when the fateful order was confirmed, then First Minister Nicola Sturgeon hailed them as "sustainable ferries" that would "contribute to Scotland's world-leading climate change goals". The two vessels would reduce the carbon footprint of the CalMac fleet "by 25 per cent".
Nobody seems to have paid much attention to where the LNG would come from. It was only as the wider debacle unfolded it emerged that it would be shipped from Qatar to the Isle of Grain in Kent and then trucked northwards, as far as Uig in Skye, which did not sound particularly "sustainable".
It was a micro-illustration of the larger truth that Scotland, or indeed the north of England, does not have an LNG re-gasification plant.
This has taken on increasing significance as the energy supply map has tilted heavily in response to decline in North Sea production and Europe's flight from Russian dependency.
LNG terminals in the UK
History has bequeathed the UK three LNG terminals with re-gasification facilities. The Isle of Grain has been importing, as well as storing, LNG since 1982. The other two are in Wales, at South Hook and Dragon in Milford Haven.
In the past, there was an LNG regasification facility at Glenmavis in Lanarkshire, which closed in 2013.
The fact that there is now a serious proposal for Scotland to acquire an LNG terminal of our own has gone surprisingly under-reported yet it could be one of our most significant industrial developments of the next decade. It needs to be taken seriously and almost certainly welcomed.
The first phase of the proposal is for a Floating Storage Regasification Unit (FRSU) in the Firth of Forth, near Methil, to be supplied and operated by Crown LNG, a Norwegian-based company that invests in similar projects around the world. It would convert LNG into gas for introduction into the grid.
The rationale is pretty straightforward. The UK needs additional LNG capacity for security of supply reasons.
'Isle of Grain is already engaged in major expansion'
The Isle of Grain is already engaged in major expansion and it makes strategic sense for the north of the country to have one of its own. A second phase of the project envisages a 2.4 GW power plant at Grangemouth which the FSRU would supply.
Whereas the FSRU plan was previously dependent on the power plant, the two phases have now been de-coupled.
According to the chief executive of Crown LNG, Swapan Kataria, the Ukraine war has changed that and there is now "enough demand and enough interest to do an FSRU by itself".
There are obviously questions to be answered and hurdles to clear. But the first decision is pretty basic – is this a development which Scotland should be welcoming with open arms in the interests of energy security, job creation and the wider economy?
You can't help feeling that the question is being avoided rather than addressed at a political level.
I'm not sure why this should be. No matter how much we do on renewables, we are going to need gas for decades to come, so why not get the economic benefits of major investment and the additional security of bringing it directly into Scotland rather than transporting it from Kent or Milford Haven? That is not a complicated question.
Neither is it one that conflicts with carbon reduction targets. As Ms Sturgeon recognised when enthusing over the CalMac ferries, LNG can be part of the solution rather, the problem though recognition of that requires some politicians to overcome the prejudice that anything involving fossil fuels is inherently wicked.
If LNG comes at the lower end of that hierarchy, then go for it.
The case for Scottish LNG is 'even stronger in today's changed world'
Back in 2017, Scottish Enterprise commissioned a report on LNG potential for Scotland from the consultant Atkin. The conclusions, even then, were generally favourable and the report is well worth revisiting and updating.
It stated: "There has been an increase in the take-up of LNG in the UK. New proposed investments in Scotland and the North of England are seeking to meet growing demand.
"Utilising more LNG appears to provide an opportunity to contribute to emissions reductions, develop low carbon technologies, linking energy efficiency, security and economic growth".
The report concluded: "There is an opportunity for further LNG use and the development of LNG infrastructure in Scotland which should be explored further".
It added a list of recommendations to be acted on in order to define the markets for LNG and the benefits new investment could bring to Scottish industry.
A lot has changed since 2017 but one would have thought that if, rationally, the case was strong for encouraging LNG investment in Scotland then, it is even stronger in today's changed world.
Reliance on renewables is fine up to a point but the hard fact is that Scotland is running out of baseload generation. That is not something that can be wished away while we wait for renewables to deliver.
There is no shortage of demand in the world for the kind of investment in LNG infrastructure that is now being proposed for the Firth of Forth.
It should be treated as an opportunity rather than a threat. Just as with the North Sea, the public understands that what may superficially seem like virtuous postures "against fossil fuels" actually make no sense when subjected to comparative analysis.
Meanwhile, back on the ferries, we may never know whether LNG would reduce CalMac's carbon footprint by 25 per cent. They seem to have fitted the wrong kind of pipes.