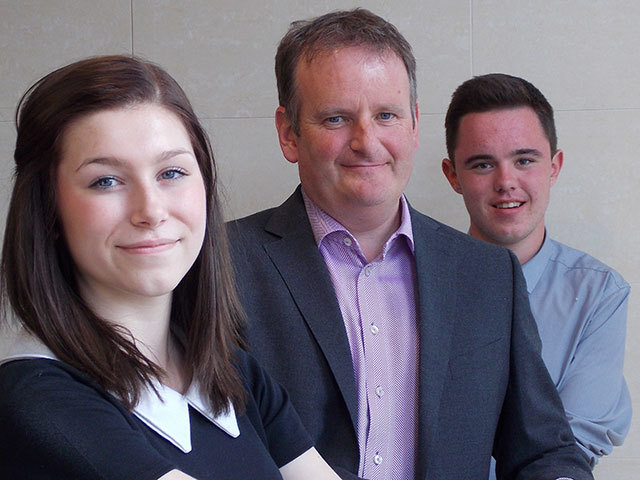 Skills shortages constraining business growth, concerns over the "great crew change", retaining talent – it's hard to miss these headlines when considering the future of the UK oil and gas industry.
These talent issues do not just impact the companies directly involved in oil and gas production, however, they also affect companies providing services to the oil and gas industry including EY.
This summer, as part of its commitment to developing future talent, EY has embarked on a partnership with registered charity Career Academies.
Career Academies works with businesses to provide 16-19 year olds with a two-year programme of mentoring, seminars, workshops and work experience through an internship.
Iain Smith, 17, and Georgina Ward, 16, have been working at EY Aberdeen this summer to gain valuable work experience and learn more about the oil and gas industry.
During their internship, Iain and Georgina interviewed EY Aberdeen's senior partner Derek Leith to discuss his views on fostering future talent.
Q: How did you hear about Career Academies and why do you think it is important for EY to get involved with the programme?
Leith: Isabel Maughan, north-east regional manager for Career Academies contacted me directly, and I also heard about it from an ex-EY colleague Anne Wexlestein.
Anne is the Career Academies director for Scotland and I knew if Anne was an advocate of the programme then it must be worthwhile as Anne has a real passion for learning and development.
I think it is important for an organisation like EY to sign up for the programme because we need to play our part in assisting young people to raise their career aspirations, and achieve their full potential. Schemes like this, and our Smart Futures programme, allow us not only to engage with young people who have perhaps not heard of EY or considered a career with us, but also help us to make a useful contribution to our local community.
It is important to provide young people with the opportunity to experience the workplace and make it feel less intimidating. We can share our experiences and knowledge to help young people make their own career decisions – for example, whether they should go straight into a job or go to university.
Q: When you left school did you know what you wanted to do?
Leith: I left school at the end of fifth year and went to Heriot Watt University in Edinburgh to study electrical engineering.
I quickly began to see this path wasn't right for me!
I found the course demanding at a time when I was distracted by the experience of being away from home for the first time.
After my first year, I returned to Wick and worked in an electronics factory which confirmed my reservations about engineering as a career for me.
I decided I wanted to be a social worker so I spoke to one of my ex-teachers who encouraged me to just go and get a degree before making any further career choices. So I moved to Aberdeen University and studied politics and philosophy.
When I left university I applied for a job in the Civil Service and chose the Inland Revenue as it paid slightly more than other government departments.
After five years in the Inland Revenue and five years in the oil industry I joined EY.
So the key message for you is that you shouldn't beat yourself up if you don't know what you want to do – keep an open mind.
I never considered becoming an accountant and a tax specialist when I was at school or university!
Q: Why do you think there is a skills shortage within the oil and gas industry?
Leith: Just as Career Academies is helping change the perception of the workplace for young people, the oil and gas industry needs to work to change its perception and be seen as an attractive career option.
I don't think engineering has traditionally been pitched as an attractive career option generally and this is exacerbated when coupled with the poor perception of the oil and gas industry.
It is perceived to be non-environmentally friendly, and the "boom and bust" cycle through a varying commodity price gives the impression that the industry should be avoided as a long-term career choice.
In reality, hydrocarbons, especially natural gas, have a huge role to play in securing our energy future, and the oil industry is a vibrant global sector which offers a huge number of varied and interesting career opportunities.
EY has been recently commissioned by Oil & Gas UK to produce a report on the skills shortage to understand what skills the current workforce has, and identify any skills gaps.
This report is the first analysis of its kind and will enable strategies to be developed to successfully address upstream oil and gas industry labour market challenges.
This is a pivotal time for the oil and gas industry – the future will be challenging but that also provides opportunities for innovation.
Q: Finally, what would be your main career advice to young people?
Leith: Ask yourself: what do you want in life?
Approach everything you do with enthusiasm and think about work/life balance.
When I helped with primary school football the coach used to say "success only comes before work in the dictionary".
You do need to work hard but remember there are more important things in life.
Work is important, you need to take it seriously, but your interests and passions outside of work are just as important – and can contribute to your success in the workplace.
Iain Smith and Georgina Ward are Career Academies EY Summer Placement Students
Derek Leith is EY Aberdeen office managing partner and the firm's head of oil and gas taxation
Recommended for you

Miliband: 'We're going to carry on using North Sea oil under Labour'