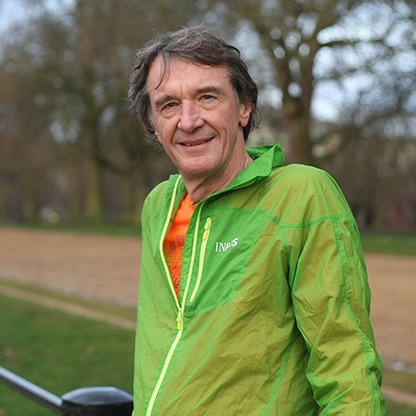 Ineos boss Jim Ratcliffe is the UK's richest energy services mogul on the Forbes 2016 billionaires list with his $5.5billion fortune.
The founder, chairman and majority owner of chemical powerhouse Ineos Group, is officially listed as making his fortune from the chemicals sector, but Ineos' ambition is to become UK's largest player in shale gas in 2014, with a plan to invest $1 billion towards shale gas exploration and appraisal.
Ineos, which owns the Grangemouth refinery in Scotland, bought 12 UK North Sea gas fields owned by German firm DEA.
Former engineer Ratcliffe is listed as Britain's fifth richest billionaire and comes in at 233 on the overall global list.
Sir Ian Wood, founder of oil services firm Wood Group, is listed at 1,121st place on the global rankings collated by Forbes with a wealth valued today at $1.55billion, placing him as the UK's 34th richest individual, according to Forbes
Last year, Sir Ian ranked 1,118th on the Forbes list of the super rich, which gives its valuation in dollars.
Sir Ian, knighted in 1994, has put more than $200 million into the philanthropic Wood Family Trust.
He has set up Opportunity North East, an economic development agency that aims to revitalise and diversify Aberdeen's oil-dependent economy.
Petrofac chief executive Ayman Asfari also makes the list – his estimated worth of $1.1billion puts him 1,577th, dropping 44 places on the list.
Asfari owns almost a fifth of the stock in the oil services company, whose shares have been hit hard by the lower oil price.
All three British energy billionaires are relatively impecunious compared with other oil barons.
Brothers Charles and David Koch, of Koch Industries head the energy sector rich list with a net worth $39.6billion each and are joint 9th on the overall global rich list. Koch is the second-largest private company in America, valued at $100 billion. The Koch's father Fred founded the company and developed new ways to refine oil into gas.
Mukesh Ambani, is India's richest man, with his £20.6billion fortune amassed through his oil and gas giant Reliance Industries. He is number 36 on the global rich-list.
Eight of the top 10 oil tycoons are Russian, headed by Leonid Mikhelson, who is 60th place overall with a fortune of $15.7billion gleaned by from his gas processing and petrochemical company Sibur.
American banking and shale gas mogul George Kaiser is 10th richest oil tycoon with a net worth of $7.1billion.
Kaiser sold part of his North Dakota oil holdings in 2014 for $340 million. The value of his Kaiser-Francis Oil Company and Cactus Drilling have been hit by low oil prices. He also owns LNG shipping firm Excelerate Energy.
All the oilmen are outgunned by technology and media moguls. Microsoft founder Bill Gates remains Forbes's richest individual with a net worth of $75billion, followed by Spain's Amancio Ortega, whose Zara retail empire has earned him $67billion. US legendary investor Warren Buffett is third with $60.8billion via his Berkshire Hathaway firm.
For its 30th annual guide to the world's richest, Forbes found 1,810 billionaires, down from a record 1,826 a year ago.
Their aggregate net worth was $6.48trillion, $570billion less than last year.
It was also the first time since 2010 that the average net worth of a billionaire dropped – it is now $3.6billion, $300million less than last year.
Recommended for you

Oil tycoon Sir Ian Wood on Sunday Times Rich List 2022