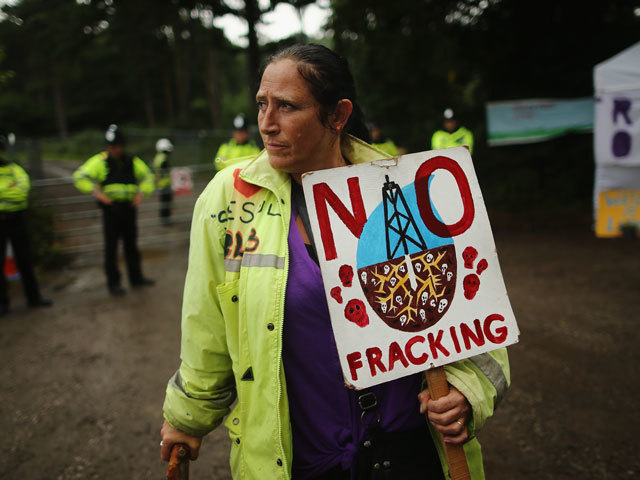 Communities which reject fracking projects should receive the same protections by ministers as those who successfully campaign against wind farms, Labour has said.
Shadow energy secretary Lisa Nandy pressed ministers to guarantee they would not override the wishes of residents should North Yorkshire County Council rule against allowing shale gas extraction in Kirby Misperton.
The authority's planning committee is expected to consider Third Energy UK Gas Limited's application, which is to test for shale gas at an existing well site with the intention of producing gas, on May 20.
Speaking in the Commons, Ms Nandy told energy minister Andrea Leadsom: "Can you tell us if the answer to that question is no, will you extend the same courtesy to that community as you've extended to communities affected by wind farms and give the people of Ryedale a promise that you will not override their wishes and impose fracking against their will?"
Ms Leadsom replied: "Where the industry for hydraulic fracturing is concerned, safety is absolutely paramount.
"If there was any likelihood or chance or any risk or any of the scare stories you like to propagate, if any of those issues were real, this government would not be looking at promoting such a vital industry.
"However, what I would say to you is that we provide 40% of our own natural gas. The rest is imported from overseas.
"It's vital for our energy security that we continue to use home-grown resources wherever we can.
"It's also a massive jobs and growth opportunity for very many communities in this country where employment is desperately needed, and you should take some interest in that."
Labour MP Rachel Maskell (York Central) attempted to push Ms Leadsom further on the issue, telling her: "A week tomorrow a very important decision is being made.
"We know in Ryedale one energy company wants to frack the beautiful landscape just south of the North York Moors National Park.
"More than 4,000 well-informed local people want to protect their local community and environment.
"Who should have the greatest influence?"
Ms Leadsom replied: "We absolutely support the idea of local consultation and local people having their say.
"But as in all planning matters … "
Ms Leadsom at this point told Ms Nandy to "stop chuntering for one minute", adding: "Every time I try and answer a question, she just chunters.
"So the point is there is a balance between the absolutely right case that local people should have their say and the national interest.
"And that is why there's a very clear local consultation process and that's why the people of Ryedale will have their views taken into account and local authority will balance up those interests."
Recommended for you

Liz Truss risks Tory backlash over end to fracking ban