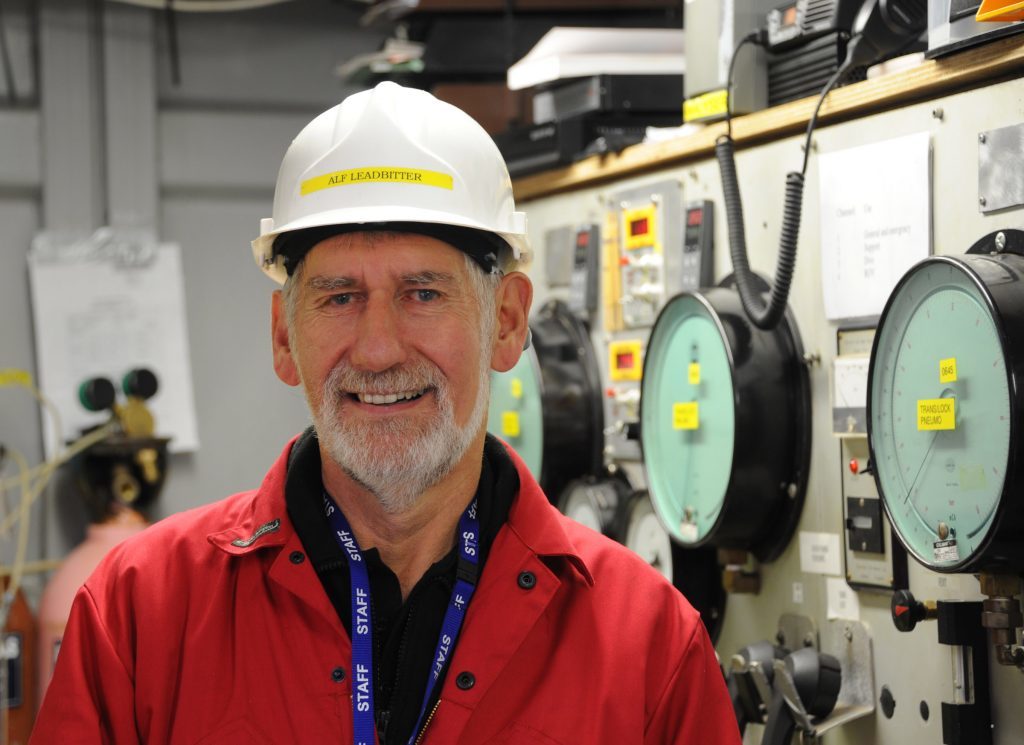 To some people the very idea of commercial diving is like walking on the moon, while to others it is as normal as driving to work or having a night on the tiles.
Then there are those who have to resort to hypnosis therapy to even contemplate it.
One thing is for sure – it's not for everyone.
Of all the forms of diving which are practised, saturation diving is widely perceived to be the most challenging.
Working at extreme depths requires divers to live in a special chamber on the deck of a vessel to prepare them for the difference in pressure at the subsea work site, which they travel to and from in a "bell", and for decompression at the end of a job.
So although they might be working at depths of 1,000ft, "sat" divers are still the best part of a week away from setting foot in the outside world.
"Diving is like being in space, but on earth," said Alf Leadbitter, one of the industry's most experienced practitioners. "Guys on the moon are closer to medical help than sat divers. Some people like it, some don't."
Sat divers can bring books and computers with them into the chamber, make phone calls, watch television and take in meals through a pressurised hatch, so they are not completely cut off.
Mr Leadbitter, who has worked as an instructor at The Underwater Centre (TUC) in Fort William for about 30 years, said his sat diving career was not death defying.
"It was quite boring," said Mr Leadbitter, who started diving in 1975.
He added: "I only had one or two minor incidents. You must be highly experienced for sat diving and, because all the experienced people are doing it, it's not as dangerous as some people make out."
Mr Leadbitter said his time in "air diving", which involves the use of scuba gear or surface-supplied breathing apparatus, was far dicier.
He said scuba, where a diver has to monitor the air supply on his oxygen tank while working, had effectively been outlawed in marine construction and engineering, such were the dangers associated with it.
"It was all back to front," Mr Leadbitter said, adding: "You started out with the cheapest equipment and got paid the least, then worked your way up to the Rolls Royce of equipment and the safest conditions, and you got paid the most."
Mr Leadbitter doesn't think of himself or other divers as superheroes, though, undoubtedly a level of bravery and skill is needed: "There are one or two skilled jobs that divers do like putting flanges together and installing jackets but the majority of diving is menial skills. We're underwater handyman, basically."
Stuart Leach, who is doing a course at TUC, was bitten by the diving bug while doing it for recreational purposes and decided he wanted to turn it into a career.
"It's playtime really," said Mr Leach, who is from Durham. "It's like driving – it's just another method of getting to work. It's the best place in the world, underwater – especially at 150ft. It's like a night out in Newcastle."
Even people with a wealth of experience under the waves may not take to commercial diving as readily as they would expect.
Dan Eaton is attempting his TUC course for a second time after experiencing difficulties a year ago.
The 41-year-old from Guildford had 450 recreational dives under his belt before turning towards the commercial route, but that didn't prepare him for having to operate while wearing a 33-pound helmet.
Mr Eaton said: "I had difficulties at the start of the course a year ago. I had a claustrophobic reaction to the helmet at the start.
"I even had hypnotherapy to try to cure it, but I got more results from speaking to diving instructors and the staff here helped me get past it. I don't have a problem with it now. I feel really comfortable."
Recommended for you

Byford Dolphin diving incident casts long shadow 40 years on