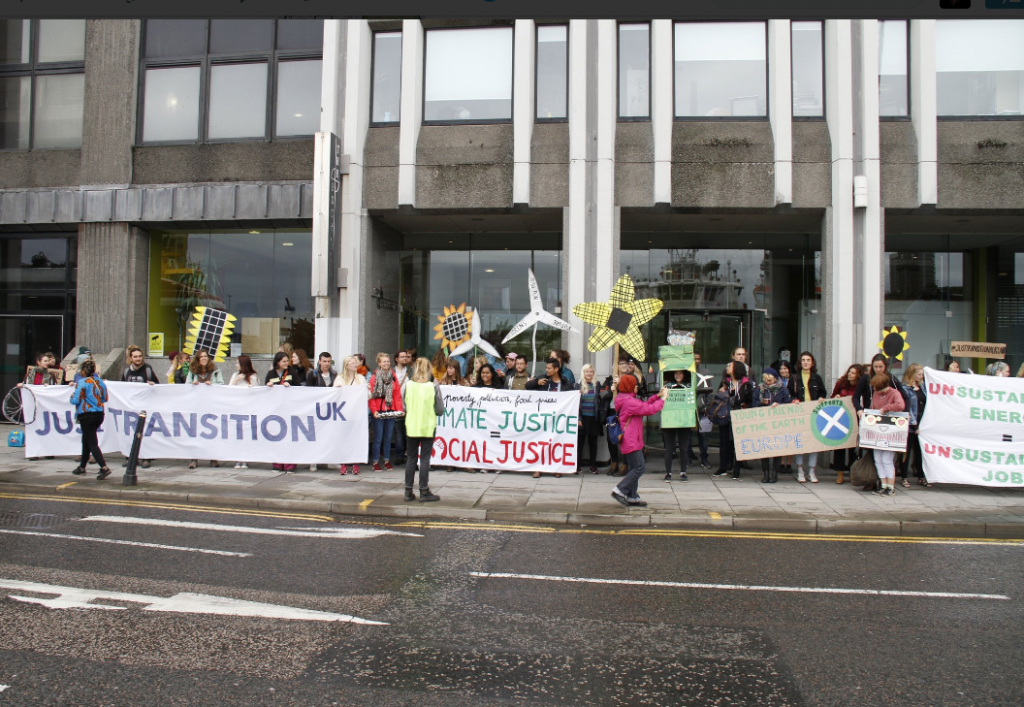 Dozens of climate change protesters stormed the headquarters of an organisation set up to help protect the UK's oil and gas industry yesterday.
More than 100 members of Young Friends of the Earth and the Climate Action Scotland groups lined the street outside Oil and Gas UK industry body in Aberdeen.
Police turned up after some of the protesters went inside the building and placed Just Transition UK stickers on second floor windows.
A Police Scotland spokeswoman said: "We are aware of the planned protest at the Oil and Gas UK premises near Market Street, Aberdeen. It is being policed appropriately."
Protesters arrived at the building at about 9am yesterday. They were calling for the UK and Scottish governments to focus more of their efforts on supporting a move to a low carbon economy while minimising hardships for workers.
The Just Transition campaign centres on promoting environmentally friendly industries.
Kirsty Haigh from Climate Action Scotland said: "Climate Action Scotland have taken over the Oil and Gas UK headquarters instead turning it into an office for Just Transition.
"We want to see the government move away from oil and gas and instead have investments in renewable energy and the reskilling of the workforce.
"Oil and Gas UK are continuing to lobby for tax breaks and subsidies for fossil fuels and instead we want to see that money go into the creation of sustainable and stable jobs.
"A lot of people in Aberdeen have lost their jobs and the government should be preparing for the future and re-employment instead of abandoning the people and leaving them out to dry by
supporting fossil fuels."
The hour long protest came to an end after police called on campaign group members to leave the building.
Deirdre Michie, Chief Executive Officer for Oil & Gas UK, said: "We respect the right for peaceful protest at Oil & Gas UK's Aberdeen offices and would like to stress that for us it's business as usual.
"However, some of the claims being made by protestors are wrong and misleading. Our sector is not – and has never been – in receipt of government subsidy. Offshore oil and gas producers are subject to far more onerous taxes than other sectors and have paid 330 billion pounds in direct production taxes alone over the years.
"Even with the reductions in taxation announced in Budget 2016, industry pays double the rate of tax compared with other industries – at 40 per cent rather than 20 per cent.
"Our industry supports the transition to a lower carbon economy. However, society's lifestyle decisions fuel demand for energy, and this demand is not going to diminish in the future, nor can it be immediately satisfied by renewable forms of energy.
"The transition to the lower carbon economy cannot happen overnight and there will still be a need for oil and, in particular gas, for many years to come."
Recommended for you

'Staggering situation' as UK regulators not investigating North Sea rig incident