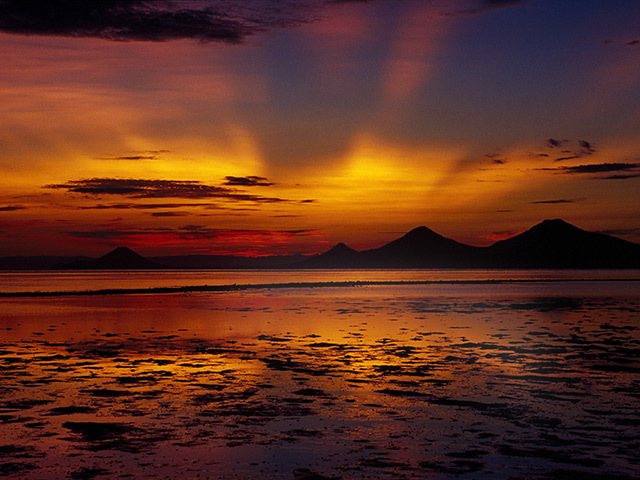 InterOil Corp. founder and former Chief Executive Officer Phil Mulacek is back out swinging at the management team that replaced him three years ago.
After a failed effort last month to wrest control of InterOil's board and derail an earlier acquisition offer, Mulacek on Tuesday urged U.S. and Canadian regulators to investigate share purchases by several directors during the first quarter, when competing bids from Exxon Mobil Corp. and Oil Search Ltd. were underway.
The directors were in possession of potentially market-moving "material, nonpublic information" when they made the stock trades, Mulacek wrote in a presentation that accompanied a conference call he hosted to raise his concerns. On a slide headlined "something smells rotten," he pointed to public disclosures of purchases by board members.
"We believe the Alberta or Ontario Securities Commission and the New York Stock Exchange should review the facts in this matter to determine whether potential securities law violations occurred," Mulacek wrote.
An outside spokesman for InterOil declined to comment or make available the company's directors for comment. The Ontario Securities Commission and Alberta Securities Commission did not respond to calls seeking comment. A spokeswoman for the New York Stock Exchange declined to comment.
Mulacek, who founded InterOil in the 1990s and led it until he stepped down in 2013, remains the company's third-largest holder with a 5.35 percent stake. The conference call he conducted with investors and analysts to highlight his objections to the offer Exxon announced last week was his latest salvo in a long-running war to regain influence in an entity he once hoped would export billions of dollars in liquefied natural gas to Asia.
In a telephone interview from Singapore after the conference call, Mulacek characterized the InterOil directors as "incompetents" who "ripped off shareholders" by settling for what he said was a poor deal. Before his 2013 departure from InterOil, Exxon was offering up to three times as much for the company in negotiations he oversaw, Mulacek said. Although the collapse of energy prices justified a reduction in Exxon's more recent offer, he said InterOil leaders should have pressed for more money.
Ann Lee, a Singapore-based spokeswoman for InterOil, didn't immediately respond to a voicemail seeking comment on Mulacek's remarks.
"Like a lot of founders who did not have a very happy outcome, I think it's readily apparent that he has some difficulties accepting the new management team and the decisions they have made," Pavel Molchanov, an analyst at Raymond James Financial Inc. who has the equivalent of a "hold" rating on InterOil shares, said of Mulacek's relationship with InterOil management. "It's not just the financial — there's clearly a personal dynamic here."
Exxon declined to comment on Mulacek's criticism of the deal and has never disclosed any financial details of the 2013 negotiations. In the interview on Tuesday, Mulacek said that post-merger he's willing to help Exxon understand the structure and characteristics of the gas discoveries that comprise InterOil's primary assets.
"This will prove to be an absolute gold mine for Exxon shareholders," Mulacek said.
Mulacek is a Texas Tech University-trained petroleum engineer who dismantled an Alaskan refinery in the 1990s and reassembled it in Papua New Guinea to gain a foothold in the South Pacific nation and its vast, untapped gas reserves. Even after discovering trillions of cubic feet of gas in the Papuan highlands, Mulacek's efforts to construct a coastal LNG plant foundered for almost a decade as he failed to line up financial backers.
Mulacek retired as CEO in April 2013 and resigned as a director that November, around the time Exxon's original acquisition attempt collapsed for undisclosed reasons.
Last week, Exxon struck a deal to pay between $45 and $71.87 per share of InterOil, depending on how much gas InterOil's Elk-Antelope field holds, a range of outcomes that valued InterOil at between about $2.5 billion and $3.6 billion. Exxon plans to process InterOil's gas through its $19 billion liquefied natural gas complex on the Papuan coast for export to Asia and other markets.
On Monday, Mulacek released a statement calling Exxon's deal for the South Pacific gas driller "vastly inadequate," urging Exxon to sweeten the offer.
Mulacek's objection echoed the critique he leveled in June against the earlier $2.2 billion joint offer from Oil Search and French oil giant Total SA. That offer low-balled InterOil holders by $1 billion to $3 billion or more and illustrated the board's "lack of alignment with shareholders and its apparent inability to evaluate and negotiate accretive M&A opportunities for the company," Mulacek wrote in a June 6 presentation.
Mulacek's effort to shrink the board to six directors from eight and install a slate of five directors that included himself was defeated by InterOil shareholders at their June 14 annual meeting. The company had recommended shareholders vote against his director nominations, saying in a May 13 statement that the push was "yet another step in Mulacek's pursuit of a self-serving agenda to influence or take control of the company."
Recommended for you
X

Opinion:It's time to give offshore workers the support they deserve