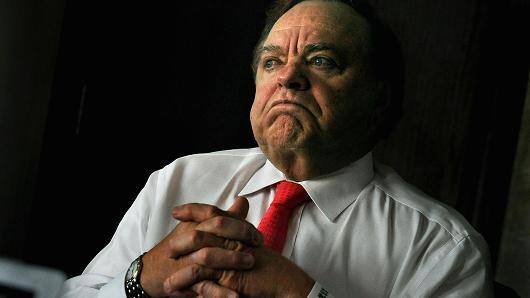 A number of oil and gas bosses have made it into Forbes annual Rich List including Trump's right hand-man Harold Hamm.
The entrepreneur who is known for his development of the Bakken formation is estimated to have a fortune of $13.1billion.
George Kaiser, who is chairman of the BOK Financial Corporation in Oklahoma, has a wealth amassed from oil and gas and banking of $7.2billion.
The founder of Chief Oil and Gas, Trevor Rees-Jones, has a fortune of $5.2billion from his business.
Ray Lee-Hunt is the son of the founder of Hunt Oil Co and has earnings of $4.8billion which comes from both wealth and real estate.
Meanwhile Jeffrey Hildebrand is the founder of Hilcorp Energy Company and has an estimated fortune of $4.1billion.
Natural gas developer Terrence Pegula has a net worth of $4.1billion which comes from his energy business, real estate and entertainment.