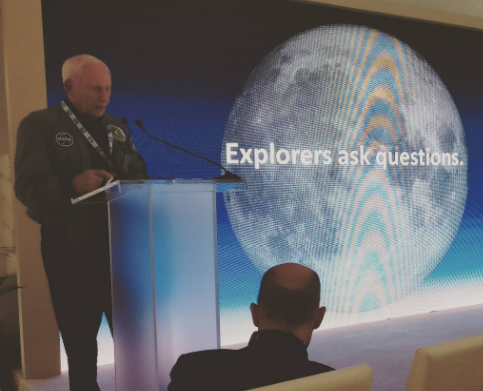 The "future of humanity" depends on generating enthusiasm for Stem subjects among kids, a US astronaut said at a major oil industry event.
Colonel Alfred Worden said mankind would ultimately have to find "somewhere else" to live as earth's resources become depleted.
Col Worden was the command module pilot for the Apollo 15 lunar mission in 1971 and is one of only 24 people to have flown to the Moon.
He said the Stem students of today will "design, build and operate" the space crafts used in future missions for "securing the future of humanity".
"We are all teachers," he said. "We've got kids who need great education and it's our duty to excite kids about Stem."
The term "Stem" refers to the academic disciplines of science, technology, engineering and mathematics.
Speaking at the Adipec conference in Abu Dhabi, Col Worden also said the oil industry would continue to play a vital role in space travel.
"We do not go to space without fuel," he said. "To get to space we need what's down there" in reservoirs.
He also spoke glowingly of the UAE leadership's ambitious plans for space missions.
UAE is preparing to send an unmanned probe to Mars by 2021 − the Arab world's first mission to the "red planet".
The Gulf state has also revealed plans to build the first city on Mars in 2117.
Col Worden said "no one country" was going to get to Mars by going it alone.
But he said the UAE would be a great "focal point" for the mission, on the basis that the state "transcends East and West more than anywhere else".
He said a trip to Mars would be a "catalyst" for new technology development, just as the Apollo programme had been.
"The technology that helped us get to the moon was the same technology that made the US successful commercially over next 10 years," Col Worden said.
"We've not seen that kind of thrust over the last few years. But now things have gone full circle and we're talking about the technology we need to go to Mars.
"That will depend on students in Stem programmes today. They're going to be developing the space craft we will be using in future.
"So we need to do more to excite kids. Stem is being encouraged and required around the world again."
Col Worden was also asked whether the deaths of three astronauts in a fire at Cape Kennedy in 1967 dented his trust in the programme.
He said: "When you have a few successful flights everyone gets complacent.
"The best time to fly an aircraft is just after a crash because everyone is out with the magnifying glasses making sure everything is okay."
Recommended for you
X

Pressure to deliver on North Sea promises