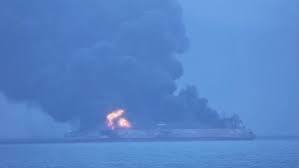 An explosion has rocked a stricken oil tanker off the coast of Shanghai, forcing maritime authorities to suspend firefighting and rescue efforts.
China's ministry of transport said rescue vessels withdrew to a safe distance after the explosion on the Sanchi's bow, the latest setback in the multinational effort to extinguish the burning wreck and find more than 30 missing crew members.
The ship is still on fire, the ministry said.
Chinese officials have previously warned that the tanker could explode and sink, possibly triggering an environmental disaster.
The Sanchi was carrying nearly 1 million barrels of condensate, a type of gassy, ultra-light oil, when it collided on Saturday evening with a freighter 160 miles off the coast and caught fire.
Intense flames, bad weather and poor visibility have hampered rescue efforts.
The entire crew of the Panamanian-registered Sanchi – 30 Iranians and two Bangladeshis – went missing after its collision with the Chinese freighter CF Crystal. The cause of the collision remains unclear.
Rescuers on Tuesday found a body believed to be a sailor from the Iranian-operated tanker, while a search continued for the 31 other missing crew members.
The National Iranian Tanker Company, the Sanchi's operator, said on Tuesday there was a chance that survivors were trapped in the ship's engine room.
"Since the vessel's engine room is not directly affected by the fire and is about 14 metres (46 feet) under water, there is still hope," NITC spokesman Mohsen Bahrami told
The Associated Press.
It is the second collision involving a ship from the National Iranian Tanker Company in less than 18 months.
In August 2016, one of its tankers collided with a Swiss container ship in the Singapore Strait, damaging both vessels but causing no injuries or oil spill.