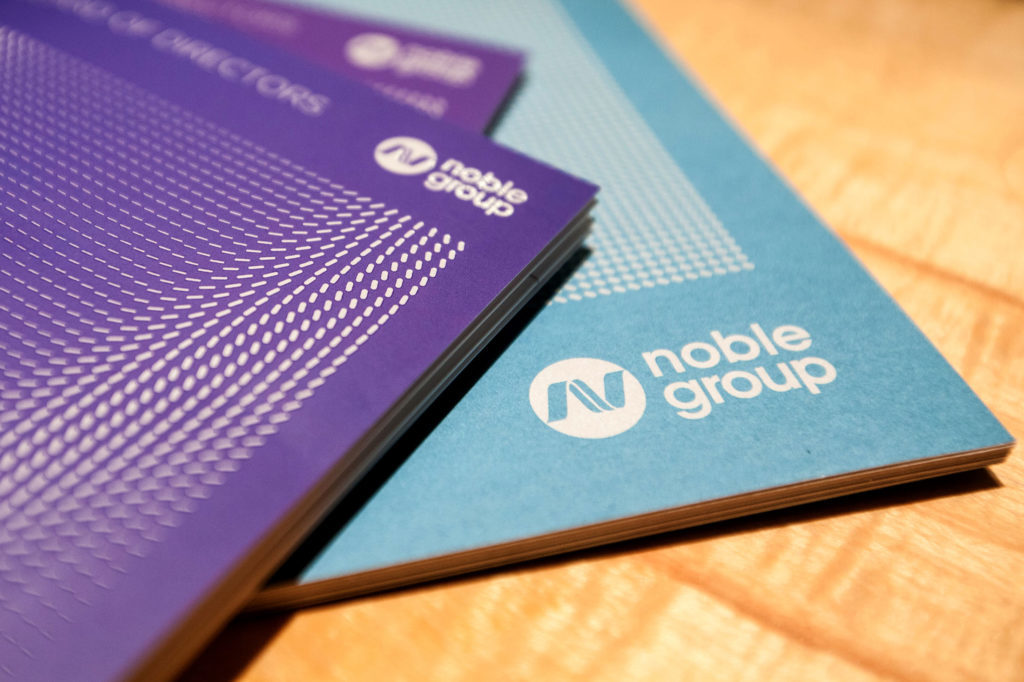 Noble Group Ltd. handed its outgoing co-Chief Executive Officer Jeff Frase a remuneration package worth about $20 million last year, even as the commodity trader slumped to a record loss of almost $5 billion.
The scale of the award, reported in Noble's annual financial statements last week, is likely to provoke consternation as the embattled trading house attempts to secure agreement from its creditors and shareholders for a restructuring plan that would impose heavy losses.
The remuneration is more than the $15 million than Noble has offered to pay holders of its perpetual bonds, which have a face value of $400 million. Under the current debt restructuring plan, perpetual bondholders, which rank below other debt securities, will suffer a 96.25 percent loss in face value.
Frase, an oil trader who previously worked at JPMorgan Chase & Co., Lehman Brothers and Goldman Sachs Group Inc., resigned as co-chief executive and head of global oil liquids of Noble in November, after the company agreed to sell its remaining oil trading business to Vitol Group. Earlier, Noble sold two other energy businesses to trader Mercuria Energy Group Ltd. and Calpine Corp.
His remuneration totaled $20.2 million dollars in 2017, according to Noble's financial statements, of which $3.5 million was a "share-based payment expense" and $16.7 million described as "other emoluments." That's more than all the company's directors put together were paid the previous year.
Guiding Force
Noble's restructuring plan has come under fire from some investors for its proposal to hand a 20 percent stake in the revamped group to management. Goldilocks Investment Co., the fifth-largest shareholder, asked in a statement last week: "Why should this same management that had created Noble's present debacle be rewarded, let alone so richly?"
The financial statements, disclosed last week, report compensation for the company's executive directors, who are listed as Frase, current CEO Will Randall, Chairman Paul Brough, and founder Richard Elman. It further divides the data into remuneration of directors at continuing operations and remuneration of directors at discontinued operations — a classification which applies only to Frase, whose oil trading business is reported as a discontinued operation throughout Noble's accounts.
In a statement announcing his departure in November, the company said Frase had "decided to resign" to "focus on other opportunities," and praised him as "the guiding force behind the expansion and profitability of the Group's global oil liquids platform."
The oil- and gas-trading businesses made a net loss of $1.05 billion last year as Noble wound down the unit.
A person familiar with the situation said that the $16.7 million in emoluments included retention payments to ensure management continuity as the oil business was sold, explaining that it was a requirement imposed by the company's banks in order to continue lending through the sale process. It also included a termination payment, and writing off a $5 million loan from the company to Frase, the person said. A second person familiar with the matter said that while retention payments were paid in 2017, they related to performance in previous years, plus payments to settle tax bills. The second person also said part of the loan was repaid.
Brough, Randall and Elman together received total remuneration of about $15 million last year, according to the statements.
Noble Group's shares have come under greater pressure since the $5 billion loss was confirmed last week. The stock tumbled as much as 7.1 percent to 14.5 Singapore cents on Monday, falling for an eighth day, and traded at 14.9 cents at 10:44 a.m., the lowest level since December.
Recommended for you

45 jobs lost as Seagreen contractor NRS enters administration