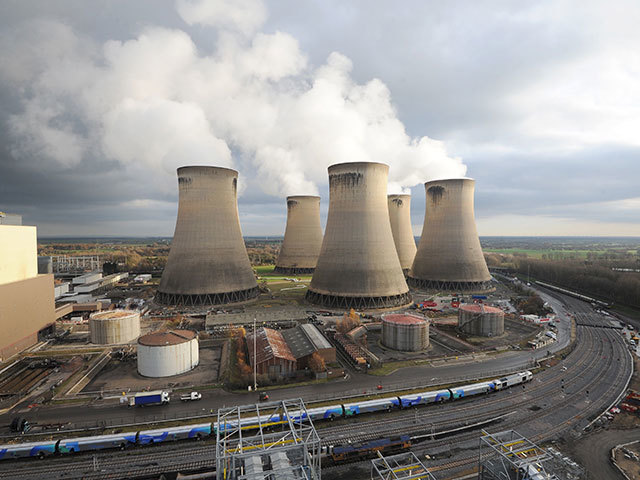 Britain's biggest power station is piloting the first bioenergy carbon capture storage (Beccs) project of its type in Europe – a move it says could eventually make it carbon negative.
Drax power station, in North Yorkshire, produces 7% of the UK's electricity and 65% of its output is through burning biomass.
The firm announced on Monday that it has joined with Leeds-based project C-Capture in what it says could be the first of several pilot projects aimed at delivering "a rapid, lower cost demonstration of Beccs".
Beccs has been touted as carbon negative as it uses plants which take carbon dioxide out of the atmosphere and then stores this when is it released as part of the electricity generation process.
Drax said that if this pilot were to lead to a full roll-out, it would achieve what the team behind the tech has called the "holy grail" of power generation.
The firm has pointed to 2016 research which suggests that Beccs could deliver around 55 million tonnes of net negative emissions a year in the UK by the 2050s – approximately half the UK's emissions target.
Drax says its biomass conversion has been the "largest decarbonisation project in Europe".
But the company has been criticised by some environmental campaigners who say biomass power generation causes deforestation, damages eco-systems and that claims for reducing atmospheric carbon rely on replanting vegetation which would take decades to replace crops that are lost.
Will Gardiner, CEO, Drax Group, said: "If the world is to achieve the targets agreed in Paris and pursue a cleaner future, negative emissions are a must – and Beccs is a leading technology to help achieve it.
"This pilot is the UK's first step, but it won't be the only one at Drax.
"We will soon have four operational biomass units, which provide us with a great opportunity to test different technologies that could allow Drax, the country and the world, to deliver negative emissions and start to reduce the amount of carbon dioxide in the atmosphere."
Energy and Clean Growth Minister Claire Perry said: "We aim to make the UK a world leader in carbon capture usage and storage, a key part of our modern Industrial Strategy.
"It's hugely exciting that Drax has chosen to invest in this innovative project".
C-Capture is a spin-out from the Department of Chemistry at the University of Leeds.
Founder Chris Rayner, who is professor of Organic Chemistry at the university, said his team has developed new chemistry to capture carbon dioxide and have shown that it should be suitable for capturing the carbon produced from bioenergy processes.
He said: "Through the pilot scheme we aim to demonstrate that the technology we've developed is a cost-effective way to achieve one of the holy grails of carbon dioxide emissions strategies – negative emissions in power production, which is where we believe the potential carbon dioxide emissions reductions are likely to be the greatest."
Recommended for you

ABB signs 10-year extension to carbon capture education deal