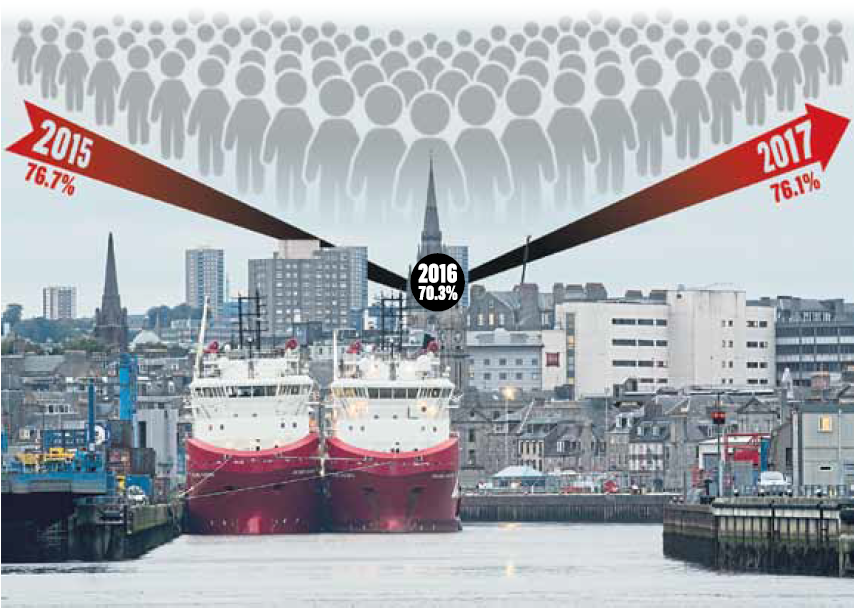 Aberdeen's workforce has officially "bounced back" to near-record levels after plummeting during the oil and gas crash.
New figures have confirmed the Granite City lost 9,000 workers as it witnessed the sharpest decline in employment rates in Scotland in 2016.
However, just a year later it experienced the most dramatic increase in the country, rising by 8,300 employees.
And the 123,900 workers in the city last year was the second highest on record, just a few hundred below its peak in 2015.
Last night, local politicians hailed the "increasingly positive signs" for the local economy as evidence that "a corner has been turned" in Aberdeen.
The Scottish Government survey showed the city's employment rates dropped to one of the lowest levels in Scotland when it fell from 76.7% in 2015 to just 70.3% in 2016.
However, it rapidly climbed back to almost a pre-crash level of 76.1% in 2017, according to the Regional Employment Patterns in Scotland report.One reason for the recovery was a jump in the city's youth employment rate from 42.9% to 62% between 2016 and 2017.
In Aberdeenshire, employment rates fell from 80.6% in 2015 to 78.1% in 2016, before rising to 82.3% last year – the third highest level in Scotland.
North-east Liberal Democrat MSP Mike Rumbles said: "It is testament to the remarkable resilience of our local industries that employment has managed to bounce back in the region. But there are still many struggling families that have received very little support from either the Scottish Government or the UK Government."
Trade body Oil & Gas UK has said 60,000 direct and indirect jobs were lost across the industry in 2016 following the global price collapse.
However, after almost three years of decline, home sales across the north-east rose by 7% in the first few months of 2017 and gross value added (GVA) growth in Aberdeen was higher than that of any other Scottish city in the final quarter of last year.
Colin Clark, Scottish Conservative MP for Gordon, said: "There is no doubt that the north-east jobs market has gone through a very challenging period due to the downturn in oil and gas.
"However, we are increasingly seeing positive signs that suggest a corner has been turned.
"These figures show a significant upturn in employment rates for Aberdeen which far outstrip the national average."
Across Scotland, there were 2.618 million people in employment last year, the highest level on record, although the 74.3% rate was slightly below the 74.4% figure for the whole UK.
The highest employment rates were 88.3% in Orkney, 82.7% in Shetland, 82.3% in Aberdeenshire and 81.1% in the Western Isles. The Highlands and islands council areas also boasted the highest employment rates for women and those aged 50 and over
Recommended for you

Big Oil faces headwinds after record $199 billion profit haul