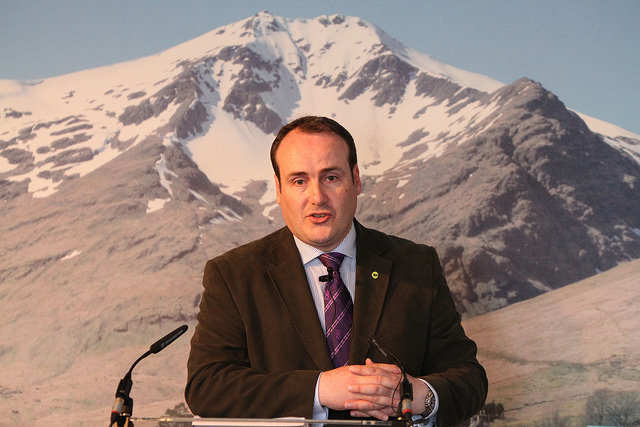 Scottish energy minister Paul Wheelhouse lost out on his business mandate in this week's government reshuffle but was handed the responsibility of Scottish islands and getting the country more 'connected'.
Mr Wheelhouse, who retains the mantle of energy, had his title changed to minister for energy, connectivity and the islands on Thursday.
Now reporting to the minister for transport, Mr Wheelhouse has been handed the responsibility of ensuring that Scotland expands efficiently into 4G superfast broadband.
He will also oversee the future success of Scotland's island communities, who this year won the right to compete with larger mainland projects for renewable energy developments in Contracts for Difference (CfD) auctions.
A Scottish Government spokesman said: "Mr Wheelhouse has become the Minister for Energy, Connectivity and the Islands – taking forward the government's key priorities of increasing renewable energy, broadband and islands policy. Connectivity is a broad term used to describe all of the work around the expansion of superfast broadband and 4G across Scotland but also new technologies such as 5G and the Internet of Things.
"The First Minister has appointed a new Cabinet which is designed to meet current challenges, introduce new talent and ensure the government is capitalising on all opportunities in taking forward its bold and ambitious programme for Scotland.  As part of this move new ministerial portfolios have been designed to reflect the government's portfolios.
"Mr Wheelhouse retains responsibility for Energy, from his previous post, and also takes responsibility for connectivity and the islands.  His previous responsibility for Business and for Innovation has been taken on by Jamie Hepburn as Minister for Business, Fair Work and Skills and Ivan McKee as Minister for Trade, Investment and Innovation."
Asked why Mr Wheelhouse now reports to the transport minister instead of minister for trade, the government spokesman said: "The Minister for Energy, Connectivity and the islands reports to the Cabinet Secretary for transport, infrastructure and connectivity who has overall responsibility for these areas.
"Bringing Transport and Energy together into one portfolio alongside infrastructure investment and the roll out of 100% broadband enables a strategic approach to be taken to key challenges around ensuring all communities are properly connected and that we meet our climate change targets."
Recommended for you
X

North-east community rails against Moray West Windfarm plans