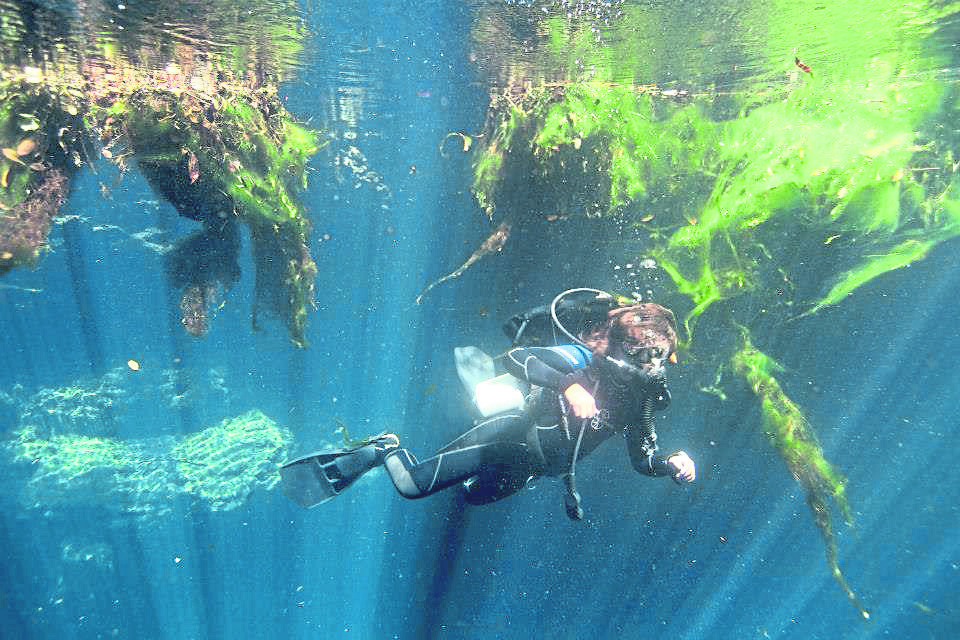 Administrators appointed to a world-leading Highland subsea training centre last night said they were doing everything in their power to help students left thousands of pounds out of pocket by its collapse.
Gordon MacLure and Donald McNaught, of Johnston Carmichael, said their first priority was to the 50 members of staff who have been left without a job following the Underwater Centre's collapse.
But they insisted they were also working to try to help the students who had only been two days into a 13-week course when the Fort William company announced it had ceased trading.
Students from both the local area and abroad told the Press and Journal they believed the Underwater Centre had been aware how serious the situation was in the weeks before its collapse, but let the students start anyway.
But last night the company said they had firmly believed there was a chance of a "last- minute reprieve", which meant they didn't make an announcement until courses had already begun.
The Underwater Centre also confirmed that as well as 15 students who had already started at the centre last week, a "small number" of others had paid deposits for future courses.
One student, Rosalinda Abeytia, said she had lost her life savings after the company folded.
The Mexican national, who now lives in Estonia, said she had given up her job to move to Scotland for three months to follow her dream of becoming a qualified diver.
She said: "Having seen the news it looks like all the concerns are focused on the staff but I don't see anyone standing up for us. We all lost £15,000 in course fees and it cost me a further £2,000 on accommodation. This was money it took years for all of us to save – and for nothing."
The 33-year-old added: "They asked us to come for two days' training and lied about how the situation of the Underwater Centre was.
"They must have known they were about to go into administration – it's not something that just happens overnight. "
Another student, 23-year-old James MacFarlane, from Oban, said he had to take out a £10,000 loan and gave up his job as a carpenter to go and study.
He said: "Not only am I now in debt for a course I didn't get to complete but I no longer have a job as I gave it up to go on the course. I have a mortgage and bills to pay."
Mr MacFarlane took up the course because he believed he would be guaranteed a job locally as a diver with the right qualifications.
Now, without an alternative provider being found, it's unlikely he will be able to receive the training required.
Miroslav Vasilev, a 41-year-old student from Bulgaria, gave up his life as a driver to move to the Highlands to study. He also took out a loan and has described the situation he has been left in as "very scary".
He said: "Because the standard of living varies from country to country, and many students are from abroad, some of them need a very long period to recover those amounts paid for their studies. In my case I will need about four years in Bulgaria.
"The picture for me here is very scary and I am devastated as it was my dream to be a commercial diver."
Highland Council has also stepped in to support four people who found themselves homeless after being evicted from their student accommodation at the centre where they were training.
On Tuesday David McGhie, managing director of the Underwater Centre, said he was "heartbroken" to announce the closure after the business fell into administration.
The centre was reported to be in financial difficulty late last year when its subsidiary in Australia fell into liquidation. But in May it was thought to have been rescued from the threat of closure after an industry collaboration with offshore firms.
Oil and Gas UK, Subsea 7, TechnipFMC, Premier Oil and the Scottish Government's HIE joined forces to try to secure its long-term future. But that failed.
Mr McGhie said: "We regret to confirm that the Underwater Centre has been forced to cease trading and will be placed into administration.
"It was heart-breaking informing our committed, loyal and professional staff and some students who were due to begin a course this week. Government, industry and the local management team have been working hard over the past year to try and find a sustainable solution for the centre. Unfortunately this has not been possible.
"We were still hopeful of a solution right up to the 11th hour, which is why some students have been adversely affected."
Donald McNaught, of Johnston Carmichael, said: "The administrators can confirm a course, which was due to commence immediately post-administration, had to be cancelled. Every effort will be made by the administrators to explore avenues for those courses to be continued via new ownership. However, it is too early to establish whether that will be possible."
Recommended for you

Royal Navy, BP, Ørsted execs among appointees to new Global Underwater Hub board