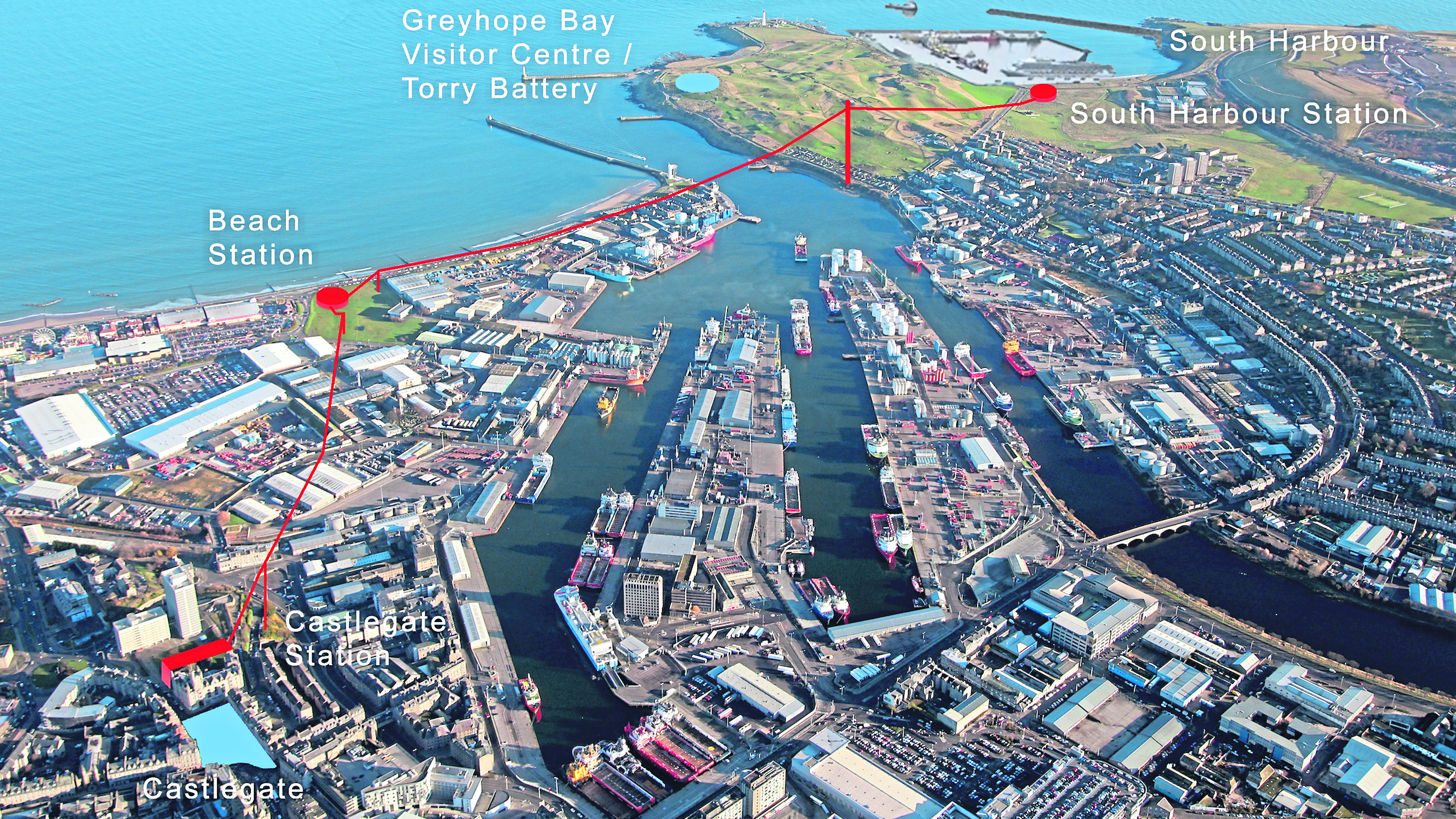 Visitors to Barcelona, Santorini and Madeira all flock to take in the views over the city by cable car.
Suspended around 164ft from the ground, the cabs pass through the air and over the water on a journey which lets the passenger experience the city in a way like no other.
And under ambitious plans, it is hoped that Aberdeen could soon be able to offer the same.
The cable cars would be positioned at the beach, the Citadel and Nigg Bay in a move which is hoped would not only give the Granite City the "wow" factor, but also regenerate the respective areas.
Architect Chris Smith said what started off as a bit of a "mad" idea to illustrate how ambitious Aberdeen's renaissance plans should be has proved to be "extremely well received" since he presented it to a group of 150 prominent businessmen and women this week.
Last year, a group of like-minded people, led by Aberdeen and Grampian Chamber of Commerce (AGCC), set about coming up with an array of ideas to revitalise Aberdeen.
Some of these involve "small and quick changes" like finding ways to introduce outdoor seating in the city centre.
While others have been "bold, ambitious and a bit mad".
Mr Smith presented his cable car ideas, alongside a group of others, at the Vanguard conference on Tuesday.
He said since then he has been overwhelmed by the support and excited to see some genuine interest in the potential project.
At the moment the idea is merely a concept, however the harbour board, Aberdeen City Council, the AGCC and Aberdeen Inspired have all been consulted and say they are excited by the idea.
Last night, Mr Smith said: "This idea came about because we'd heard that, although there will be many cruise tourists arriving at the new harbour who will head straight out to the Shire, there will also potentially be thousands of tourists who will come into the city centre for the day.
"There are logistical challenges involved in transporting hundreds if not thousands of people by bus into the city centre, so we just wondered if there were other alternatives out there to avoid all these problems, something that might give tourists a better first impression of the city, something with a bit of wow factor."
This week, leading businessmen told the conference that in order for Aberdeen to reinvent itself, it needed to find an iconic attraction like the V&A or the Kelpies to put it back on the map.
Mr Smith the next step is to find someone willing to invest and work with the Vanguard project to fund a feasibility study which would take it to the next level.
Recommended for you
X

Minister to work with contractors over bypass delay