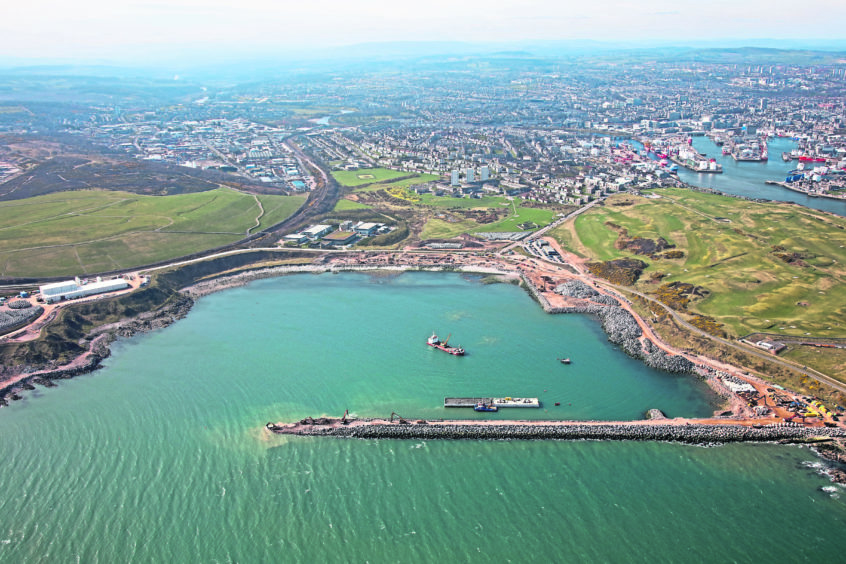 Bosses have promised to navigate "choppy waters" to ensure that Aberdeen Harbour's expansion stays on track for summer 2020.
Members of the public were invited to hear updates on the city's £350 million development at Aberdeen Harbour Board's Public Meeting last night.
Construction on the Nigg Bay development, which will officially be known as Aberdeen South Harbour, began in 2017, with bosses hoping the mile of new quay will lead to a boost in tourism, with more cruise liners visiting the city.
Harbour bosses pledged last night that the development will be complete, and stay within its budget, ahead of completion next summer, with Jose Luis Manso, operations manager for the development, adding that the work could even finish early.
Speaking at the meeting last night, Michelle Handforth, chief executive of the Aberdeen Harbour Board explained the successes the new development would build on.
"Last year we had a 5% rise in vessel tonnage compared to 2017," she said.
"More than 100,000 tons of decommissioning material has passed through the harbour and bookings are already coming in for the new harbour.
"It is thrilling to watch the new facility emerging from the sea."
With a £3.3 million turnover for the year, she explained the new development would "exceed expectations" in providing an "innovative and eco-friendly" port system that would benefit both the local and national economy.
And Alistair Mackenzie, chairman of the board, added: "Our slight lull during the winter period has been replaced by intense activity and watching the development build up as if by magic is inspiring to both me and harbour board employees.
"We have weathered stormy seas, though while the outlook is better now the current political climate does suggest there may still be choppy waters ahead."
The harbour project has previously been criticised by residents who have raised concerns over the development's effect on the local community and the environment.
At last night's meeting, councillor Allan Donnelly broached the topic, and asked whether concerns were still being addressed.
Replying, Mr Mackenzie said: "We will always have questions from residents and would be doing something wrong if we didn't.
"We are still trying our best to engage with local groups and will continue to work with the community proactively."
Last night's meeting marked the arrival of a fifth caisson outside Nigg Bay, with sinking work to take place today.
Built in Spain, shipped to the Cromarty Firth and then floated to Nigg Bay, the caissons act as prefabricated sections of quay, and are filled with water to sink them into place before being infilled.
Caisson units will continue to be placed throughout this summer, before final touches on the harbour take place next year.
Speaking after the meeting, Mr Manso said: "The caissons have been a significant milestone in the project.
"It has been amazing and I feel honoured to work on it. And if the weather works in our favour, then we could see an even earlier date for completion – such as April."