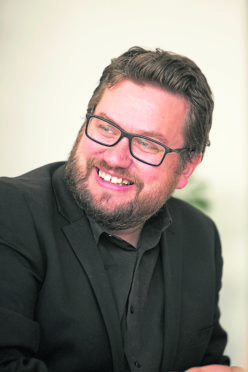 The age-old question is: are entrepreneurs born or made?
People who set up businesses, employ others and have sights set on growth are the holy grail of all policy makers intent on economic growth.
And while biographies of highly successful entrepreneurs showcase aspects of their mercurial success, the vast majority of entrepreneurs who don't quite bestride the globe like a colossus don't often even write books, let alone have them flying off the shelves.
More often than not, entrepreneurs are born of necessity rather than design.
Mark Kemp set up 42 Studio in Aberdeen when the company he was working for, EQ Design, fell victim to the oil and gas downturn. Mr Kemp took staff and contracts with him to the new business, which he set up in 2016.
"It was a casualty of the downturn. I started up 42 and was fortunate enough to retain clients and the team and we were able to carry on. We haven't looked back since".
Despite being an employer of eight – soon 10 – and overseeing growth that will soon see the company move to new offices as well as new markets, he does not consider himself an entrepreneur.
"I would never call myself an entrepreneur. I think of myself as a business owner," he says. "An 'entrepreneur' is what someone else calls you."
Instead he looks to some of his clients as being the true entrepreneurs. In recent years, he has been working with a range of clients starting up food and drink businesses – an exciting growth area for the north-east region, which is already known for its burgeoning drinks sector and also plays host to a significant primary production sector.
He said: "There are definitely entrepreneurs out there and people with entrepreneurial spirit – I experience it every day with some of our clients.
"There's a lot of activity and support for food and drink start-ups. Young – or not so young – people are deciding, either through adversity or they realise they can't rely on their current jobs, that they want to do what they are passionate about.
"Whether it is gin, cheese, ice cream, coffee – they want to create real products. I look at them and see that sector has a huge entrepreneurialism about it. It has got passion but it is also high risk in a highly competitive market."
He also reports the region's stalwart oil and gas industry is showing signs of a return to entrepreneurial health.
"Oil and gas is showing it as well," said Mr Kemp. "Suddenly there are more engineers and technicians who have an idea and are seeing the business community in the city and the way oil and gas is changing means it is ripe to start a new business.
"Because the downturn and because of new mechanisms of support, it has created this spike in entrepreneurial spirit. We have never been involved in as much oil and gas work as we are now."
Recommended for you
X

Subsea UK event to focus on financing growth ambitions