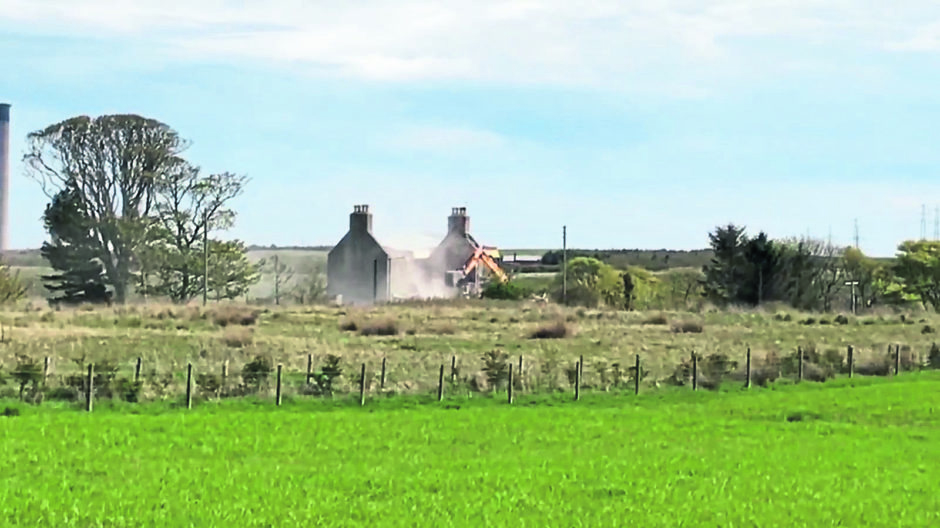 A north-east business has lodged a retrospective planning application after being ordered to stop demolishing a listed building.
Diggers were seen tearing down Wellington Place Farm House in Peterhead on May 13 – a B-listed property owned by Score Group.
But Aberdeenshire Council ordered it to stop as the company did not have the proper consent.
An investigation was launched and now Score has submitted a retrospective application for the work and to tear down the rest of the farmhouse.
Managing director Conrad Ritchie insisted that the work had been carried out to make the building safe after it was targeted by fireraisers and vandals.
"As always we have acted in the best interests of public safety," he said.
"I should point out that the temporary stop notice was received after we had demolished the parts of the building that had been destroyed in an earlier act of arson.
"Had the arson not occurred then the building would not have been worked upon.
"The retrospective application has been lodged as we feel the remaining structure, although deemed safe, is beyond repair.
"We should also be mindful that the land in which is sits is an approved commercial development area."
In 2017, Score's request to knock down the early 19th-Century, two-storey building was refused.
Mr Ritchie said the company had not yet been given feedback on the investigation, despite the order ending on Monday.
A council spokesman said: "A planning application has now been submitted for the demolition of the property and this will be considered in due course.
"The owners are aware that the building is B-listed and that no further work should take place pending the outcome of the planning application.
"Further steps will be dependent upon the outcome of this process." But the application, which was lodged at the end of May already faces an objection.
In his letter to the council, neighbour Adrian Munro said: "I can't see how someone can start to demolish a listed building without permission, then use the fact it's part demolished to get the go- ahead."
The letter added: "They should be made to rebuild it to the original liveable condition it was in when they bought it."
The determination of the application will dictate any repercussions for the unauthorised partial demolition.