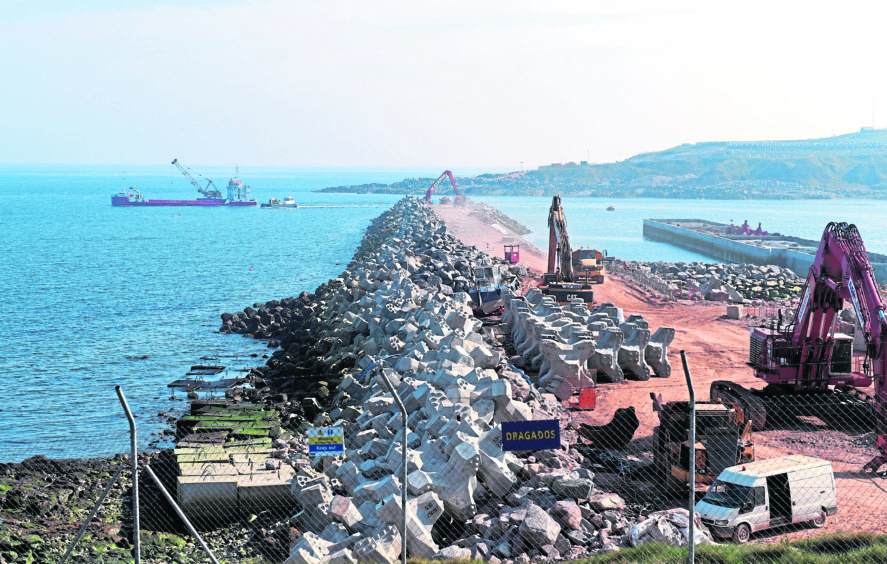 The quarry excavating rocks for the Aberdeen Harbour expansion has warned the project will have to be delayed unless it can extend its opening hours.
Blackhills, to the south of Cove and Charleston, has been supplying materials for the £350 million development since 2017.
But it says developer Dragados has since upped its order of materials and the only way it can keep up with the demand – and keep the project on track – is to stay open for longer each day.
Operator Leiths has submitted an application to Aberdeen City Council to change its weekday hours of operation from 7am-7pm to 5am-11pm until the end of October.
One of the documents submitted to the local authority says: "Dragados had intended to win a portion of rock by subsea blasting and dredging in 2019.
"This material can no longer be won on site and Leiths has been asked to supply a significantly increased tonnage of material over what was initially ordered to make up the shortfall.
"The quantity of material required cannot be produced within the currently permitted hours at Blackhills Quarry."
Leiths says the extra six hours of working time each day will be used to process and filter the materials it has gathered using a trommel screen – a rotating cylindrical drum which can sort items by size.
It has also commissioned a noise study to measure the potential impact of the machine on nearby properties.
The application warns that the extension is necessary "so the harbour expansion project can continue as scheduled".
It added that the extended hours will only be used to operate the trommel screen, rather than for blasting rocks or transporting items.
However, some of the quarry's neighbours have expressed concerns that they could still be affected by the additional workload.
One man who lives in a neighbouring street and did not wish to be named said: "The idea sounds ridiculous, to be honest.
"There's a lot of lorry traffic as it is without them adding to it with more. And there's enough dust and dirt too without it operating later.
"But as long as it doesn't make much noise, I'm sure it will be fine."
Amanda Smith said: "I won't be very happy if it's loud.
"I miss the work that's going on during the day, but when I'm at home you can definitely feel the explosions and vibrations from the quarry."
And Yvonne Hendry said: "It's not really the noise that's the problem, it's also the parking and traffic on the streets nearby at busy times.
"If you have younger kids who go to bed early, then it could be no use. But if it's something that needs to be done, then fair enough."