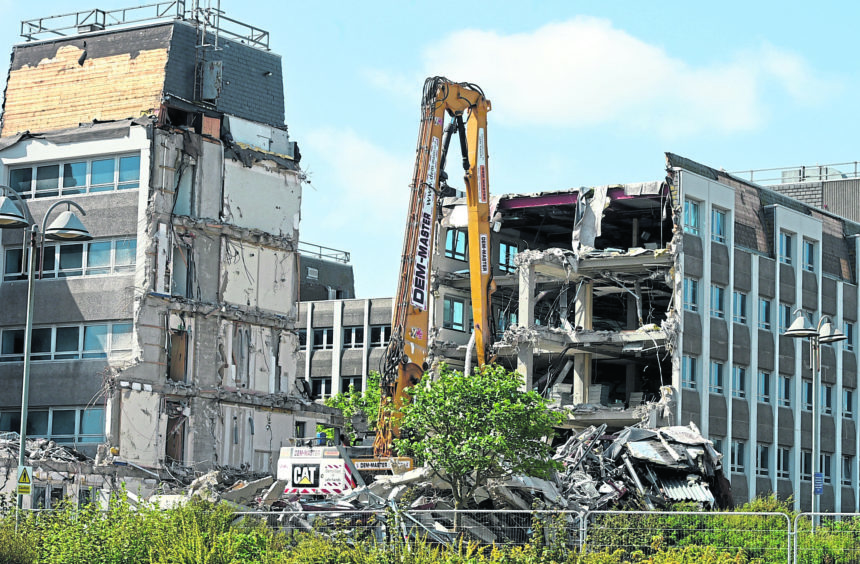 One of the north-east's landmark buildings is being torn down after being sold at a bargain basement price.
Silverburn House in Bridge of Don has been an onshore fixture in the North Sea oil and gas industry for decades.
Its demolition comes just months after it changed hands after going up for auction with a guide price of £1.25 million – a fraction of what it was worth six years ago.
Greater Manchester-based property investors Isaac and Lea Bamberger – trading as Parklands View – snapped up the building, which was previously owned by Australia's Cromwell Property Group, for £1m.
In 2013, before the oil and gas downturn, the Claymore Drive offices were sold to Cromwell by property investment firm Highcross in a deal valued at £17.56m.
They became vacant last year, when Baker Hughes, a GE company relocated staff to offices in Dyce.
Eric Shearer, head of the Aberdeen commercial office of property giant Knight Frank, said its demolition was a side-effect of a "lunatic" business rates system.
Property owners would rather demolish empty buildings in Aberdeen than pay hefty rates bills, he said, adding: "There is a simple solution to the problem but no one seems to care.
"We rightly criticise obvious waste of resources yet we are happy to see this type of waste."
Mr Shearer said the new owner would end up with a "great" residential site at the expense of "perfectly acceptable" office accommodation.
The loss of Silverburn House means £840,000 of business rates are "lost forever" from a building that need not have stayed empty, he said, adding: "If you don't take away the empty rates burden, more people are going to do this. I find it incomprehensible."
Mr Shearer said rates "holidays" would give landlords breathing space to find new tenants, stop the demolition trend and protect future income for the council.
Millions of pounds were spent refurbishing Silverburn House, which was once home to Occidental and TotalFinaElf, before the oil slump.
Recommended for you

Shell reveals £10m price tag for demolition of former Aberdeen HQ