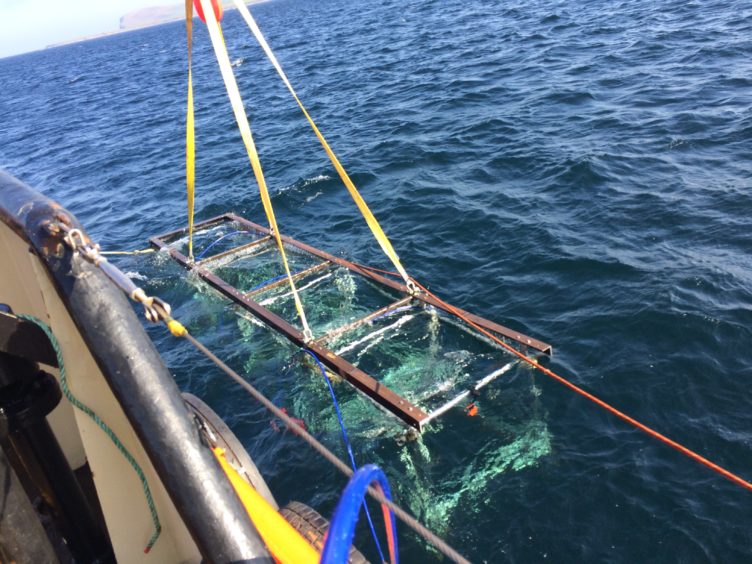 Aberdeen-headquartered Hydro Group has completed trials of a new technology which could save tens of thousands of pounds on costs of scanning the seabed.
The project, inspired by "hydrodynamic sensors" in fish, uses high frequencies to create a 3D scan of the seabed which can be completed in a matter of "weeks, days or even hours".
Hydro Group said the renewable energy and aquaculture sectors could benefit, along with harbour managers, saving between £20,000 to £50,000 compared to other methods.
A prototype has now completed trials in Orkney in collaboration with several European research partners.
The tool uses methods not currently available to measure factors like water flows near man-made structures or nets, and previously undetectable small changes caused by salinity or temperature.
It could eventually be used to scan areas of several hundred kilometres.
The project has been developed as part of a research collaboration with £2.7m (€3m) in EU funding, of which Hydro Group will be eligible to claim back £401,000 for its contribution.
Research partners include Tallinn University of Technology, the University of Groningen, Heriot-Watt University, Eliko OU and Orkney-based environmental services firm Aquatera, with a view to developing new large-scale seabed imaging tech.
Hydro Group designed and engineered the units which were tested off Orkney in May, while Heriot-Watt equipped it with optical sensors.
Nathan McFarlane, team leader at Hydro Bond Engineering, said: "We are proud of Hydro Bond Engineering's role in the LAkHsMI project to date, as these technologies have the potential to be upscaled to an area of several hundred kilometres in commercial applications."
The tech will now face further testing and concept refinement in Estonia and the Gulf of Finland later this summer.
Gareth Davies, managing director of Aquatera, said: "It is still too early to define a survey cost for this new technology, not least since all surveys are different.
"However, the technology has been designed to be small and lightweight, and the challenge now is to devise a deployment frame which provides the right support with minimal weight and drag.
"Given the alternative survey methods available, we envisage survey costs within the £20-50k cost bracket for the short-term future."