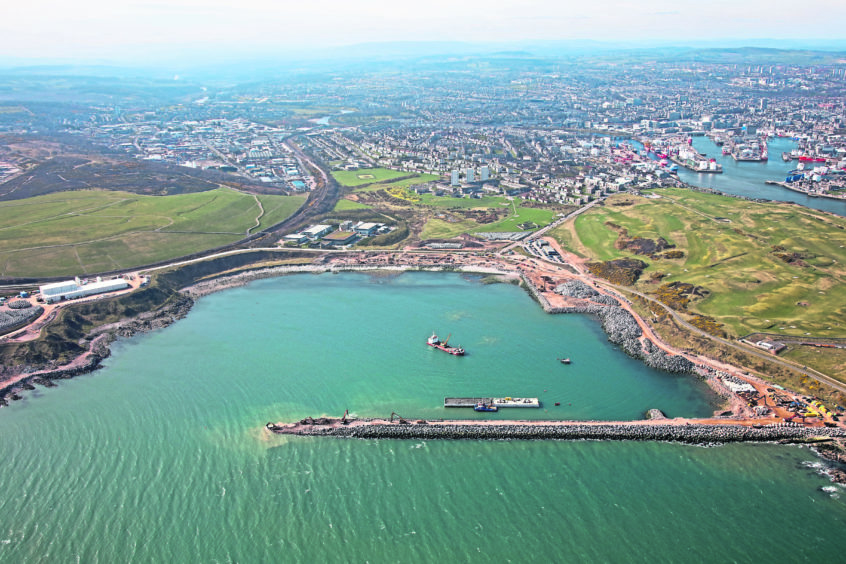 Aberdeen Harbour bosses say Brexit will have no impact on the Spanish contractor's key role in their £350 million expansion project.
Michelle Handforth and Keith Young, chief executive and engineering director of Aberdeen Harbour Board respectively, said it was also unlikely to affect oil and gas industry customers well-used to dealing with political change in their key markets.
They were speaking as work continues at the new south harbour, due to be completed by mid-2020.
With more of it now visible above water, the scale of the massive project is becoming clearer by the day. About 120,000 tonnes of infill material have been placed behind huge concrete blocks, or caissons – some of the 22 that were shipped to Scotland for the project from Spain – on Dunnottar Quay.
The north breakwater has reached its total length of 2,100ft and nearly 8.5 million cubic feet of material has been laid below the water's surface for the south breakwater to a length of almost 2,000ft.
Twelve caissons are in the Cromarty Firth waiting to be moved to Aberdeen.
Much of the construction material for the project was either locally sourced or brought in from Norway, so apart from the caissons there is no supply link to the EU.
According to Mr Young, that means no issues for Spanish contractor Dragados or its UK subsidiary after Brexit.
Ms Handforth said the UK's exit from the EU, either with or without a deal, was unlikely to faze the port's oil and gas industry customers.
"We are not a big container port delivering services to the rest of the UK," she said, adding: "We serve, primarily, oil and gas markets that are probably not going to be affected."
Aberdeen has 37 international shipping connections, 14 of which are to other European countries. AHB's £297.7m fixed price deal with the UK arm of Madrid-based Dragados was signed in December 2016, with the figure agreed in sterling, so there is little risk of any further plunge in the pound inflating costs.
The harbour expansion is adding more than 4,500ft of new quayside and about 150,000sq yds of laydown area.
It is driven by ambitions to attract larger vessels associated with sectors such as decommissioning, as well as cruise ships, alongside traditional oil and gas business.
The £350 million price tag for the whole project includes a lion's share for contractor Dragados, other contracts and project management, a feasibility study, environmental impact assessment and site investigation costs.
Harbour board chief executive Michelle Handforth and engineering director Keith Young were keen to highlight the "future proofing" aspect of the project, which features a raft of innovations aimed at making sure the facility prospers from the global energy transition.
Whatever the fuel requirements of ships visiting in years to come, it is expected the new south harbour will be versatile enough to meet their needs.
"We are building a facility that will be able to support our customers well into the future," Mr Young said, adding the breakwaters had a design life of 100 years.
Ms Handforth said environmental considerations were a key part of the expansion and would continue to be at the heart of future operations. "We want to be dubbed an eco port," she said, adding the aim was for the facility to be self-sustainable and environment-friendly.
According to the Guinness Book of Records, Aberdeen Harbour is the oldest existing business in the UK due to a history spanning nearly 900 years.
Recommended for you

Aberdeen Harbour welcomes new boss at 'pivotal' time for port