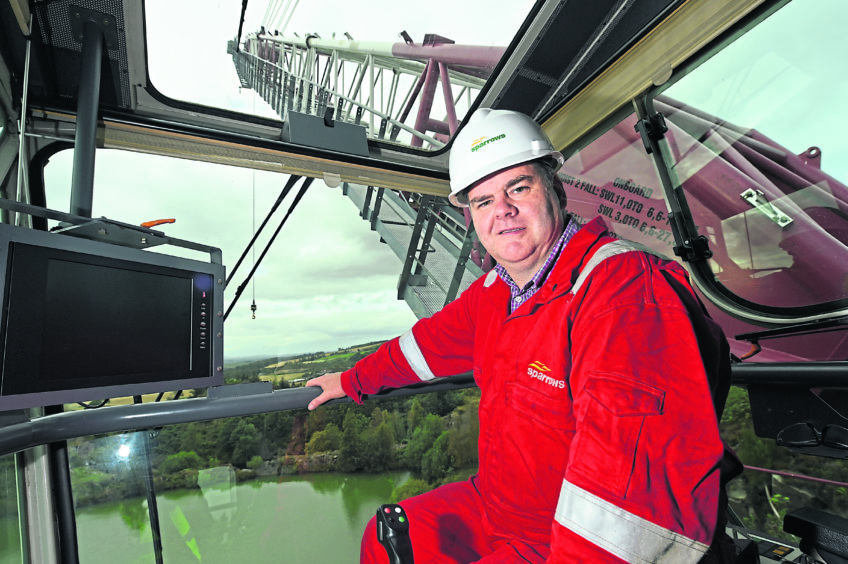 Hugh MacLeod doesn't like talking about himself. He's modest about his experiences, despite the fact that he has travelled all over the world with his career. For Hugh is happiest with the simple life, and most at home in the Highlands, where he grew up in Daviot – on the outskirts of Inverness.
The next generation of young engineers is looking to Hugh for advice, though, eager to learn from more than 30 years of experience.
While many of us battle the rush-hour traffic to get home, a select group of people meet at Tyrebagger quarry after work.
Few people know of the secluded spot, which is only a few miles outside Aberdeen city centre, surrounded by forest and only accessed via a winding road.
But this site is Hugh's kingdom, where he can take in the views and pass on expert tips.
He has been working with cranes since leaving school at 16, and couldn't see himself doing anything else.
Perhaps it's the dizzy heights which has drawn Hugh 250 feet above the North Sea, or the peace and quiet on offer within the cabin.
Whatever the attraction, Hugh is welcoming fellow crane enthusiasts to an "after-work club" with a difference.
As operations and maintenance superintendent for Sparrows Group, he gives up his spare time to help graduates learn more about the practical side of crane maintenance and operations.
And the Sparrows training centre provides the perfect environment, where trainees can climb aboard an offshore crane which overlooks Tyrebagger quarry.
"When I left school, the only qualification I really had was woodwork and metal work. I didn't really enjoy school," said Hugh.
"I was better at the practical side of things.
"I served as an apprentice in an oil yard, and all the overtime was in repairing cranes.
"Things went from there, really, and I ended up working on the Tern Alpha platform just off Shetland.
"It wasn't the nine till five, for sure, but I loved operating cranes.
"I can't really put it into words what I enjoyed about it.
"I loved the challenges.
"The weather could change in minutes in the North Sea. It would go from a calm day to 80mph winds.
"I always had to be aware of my surroundings, it required a huge amount of concentration."
Despite the fact that Hugh was positioned around 250 feet above the water, he had plenty of company.
"I never found the job lonely because you could communicate with the rest of the crew via radio," he said.
"And I saw some sights, I can tell you.
"I can remember seeing killer whales coming right up close to the rig.
"Watching gannets diving into the water, that was amazing.
"I've seen sunfish as well, they're peculiar looking things.
"The sunrises and sunsets were spectacular, it's Mother Nature at her finest."
Hugh was then offered a role as a mechanical supervisor working in West Africa, and decided he was ready for a new challenge.
"I've always been passionate about my work and I wanted something fresh and exciting," he said.
"It was a complete culture shock and an eye opener, but I enjoyed it all the same."
Upon returning to the UK after three years abroad, Hugh was soon on the look-out for his next mission.
He originally had a role as a safety coach before realising that young people were not getting the chance to experience how an offshore crane works.
"When I first came up with the idea, I think people thought I was joking," said Hugh.
"Here I was wanting to give up my spare time.
"Once they realised I was serious, everyone was excited to get started.
"The training centre is perfect; the offshore crane is mounted off woodland and overlooks the quarry.
"There's even a barge in the quarry, so we can simulate an offshore environment.
"Very often, graduate engineers haven't had the chance to experience what it's like offshore.
"The feedback has been fantastic and the classes are always booked up.
"It helps people feel more confident when they have that little bit of knowledge and experience."
Hugh is also hopeful that more women will join the training programme in the future.
"That would be fantastic to see. Sparrows already has some female technicians and it would be great if they worked the cranes," he said.
"We're only 10 to 15 metres above the quarry here, but this isn't a job for those who are scared of heights.
"I honestly never thought in a million years this would be my career.
"I was 16 when I started out and now I'm 50.
"I feel like it's my turn to pass on everything I know and help the crane operators and engineers of the future."
Recommended for you

North-east oil industry needs to enhance 'narrative' or risk a 'brain drain'