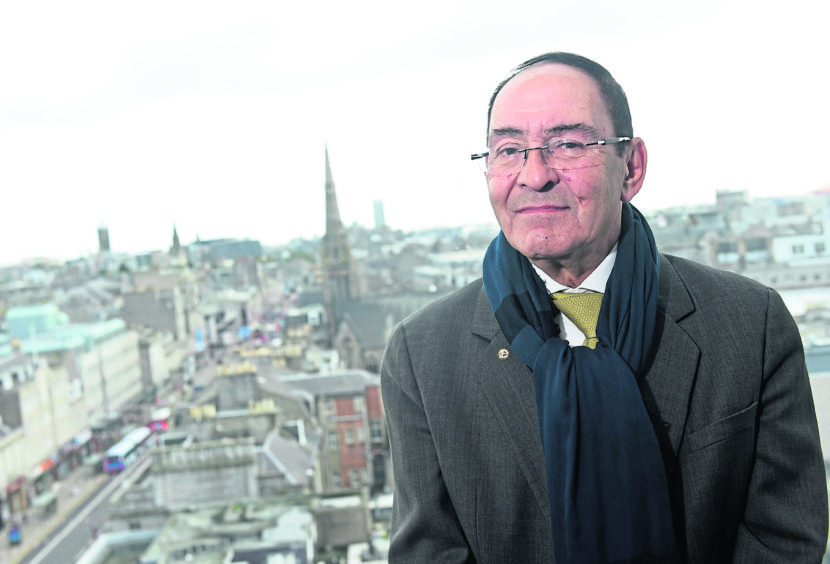 One of the country's most respected regeneration tsars has warned Aberdeen should not become complacent following millions of pounds worth of investment in the city.
Sir Howard Bernstein, who spearheaded the renaissance of Manchester following the 1996 IRA bombing, said the Granite City had a real "buzz" a year on from his last visit.
In the past 12 months residents have witnessed the opening of the Aberdeen Western Peripheral Route (AWPR), P&J Live, the Music Hall and Art Gallery in a string of major investments worth a total of nearly £800 million.
But Sir Howard said the key to future growth and attracting young talent to live and work in Europe's oil and gas capital was to make sure the city does not stand still.
Speaking on the eve of today's State of the Cities Conference at P&J Live, where he will be delivering the keynote speech, the strategic adviser for Deloitte said: "There is a real buzz about this place at the moment.
"Everyone I have met communicates that really, really clearly and that's to the real credit of not just the council, but the whole range of partners who work here and are making this place what it is today.
"But just because you are doing all of these big projects and have delivered them doesn't mean job done really because cities never stand still.
"Cities consistently have to evolve. Not all of it is about physical development, some of it is about partnership building and joint working and quite a lot of it is about nudges rather than big interventions – but there needs to be a constant requirement to effect change."
He added: "The places that stand still ultimately end up walking backwards because every place is trying to find different ways of being successful."
Today's conference coincides with publication of the second annual report by an economic policy panel that was set up after the oil and gas downturn to give advice on the city and regional economy.
Sir Howard said Aberdeen needed to be "constantly reinventing" economic change in order to prepare for the next decade.
He said main areas to focus on were making sure the city caters for more than just high earners in oil and gas, and trying to assess what it would take to ensure young people choose to stay rather than look elsewhere for opportunities.
He added: "You need to ask yourselves, what do we want it to look like in 10 years' time? Not what does that mean in the context of just physical development, but what does that mean for the demographic profile of the people who live here and the population?
"How can we help them take more responsibly for their own life choices and how can we help them? What is the nature of the public sector service offer which has to change to drive those outcomes? What do we mean by a more productive labour market serving Aberdeen?
"It's not just how do you keep hold of those high-value jobs which currently characterise the economy – it's how do you ensure a lot of people who are not represented in that labour market are catered for?
"How do you cater for a lot of young people who currently feel they have to look outside Aberdeen for their jobs?
"All of this will determine how productive the Aberdeen economy will be in the next 10 years and they're all big, big questions which all cities have to tackle. I just think some of the problems here are more acute."
He said there was also a greater need to cater for younger and future generations.
More professionals in cities like Manchester and London are turning to co-living as they don't want to be weighed down by a mortgage, he said, adding: "We have to look at ways for young people to have the ability to live either at the edge or within the city centre, and what would that mean in terms of new forms of living?"
Sir Howard, former chief executive at Manchester City Council, is a strategic adviser for Deloitte and yearly visitor to Aberdeen.
He said he believed one of the most important parts to instigating effective change in a community was making sure partners work effectively together.
Although he has not been in Aberdeen to witness recent collaborations, Deloitte senior partner Graham Hollis said more could be done.
Mr Hollis added: "As Aberdeen looks to reinvent itself into a more diverse economy, new partnerships and relationships will need to be formed in order to adapt to the challenge of moving away from being so heavily dependent on a single sector.
"We have enjoyed the spoils of having a fantastic oil and gas sector for so many
years.
"But as we look forward from this point in time there's a need to diversify, whether it be to new types of energy, which is a big opportunity for Aberdeen as a city, but also away from energy as well."
The One (Opportunity North East) partnership is an asset to the north-east, Mr Hollis said, adding: "There are other alliances that need to be formed if we want to make the most of the opportunities we undoubtedly have."