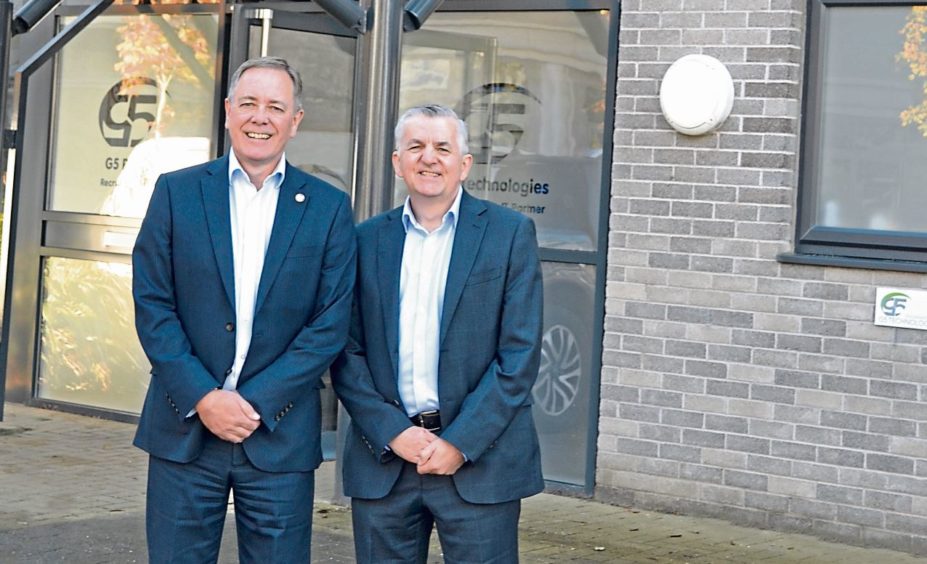 A new era has begun for a north-east business conceived over pre-match drinks before Aberdeen FC games at Pittodrie Stadium.
Alan Moir, 61, and Graham Fyfe, 59, discussed more than the ups and downs of the Dons at their regular meet-ups in the city's Hawthorn Bar from the 1970s onwards.
It was these get togethers that eventually led to them hatching plans for accountancy firm Fyfe Moir & Accociates (FMA), which recently relocated from the west end of Aberdeen to nearby Westhill.
Mr Moir said the new home for the business in Arnhall Business Park was an exciting new episode for its two partners and their 12 staff.
FMA – founded in 2006 – is now in its 13th year and "bigger than we ever thought we were going to be," he added.
When the chance came to move into spare accommodation next to Westhill company G5 Technologies, with easier access for clients, thanks to on-site parking and the AWPR, it was a no-brainer.
"G5 had gone through a year without a tenant," Mr Moir said, adding: "We've signed a 10-year lease and they (G5) are looking forward to us working together."
Both firms will benefit from referrals, with G5 – whose owner, Steve Brand, was introduced to FMA through the BNI business network – gaining a tenant they can trust to "pay on the button", he said.
He added: "This was a calculated and correct move. As soon as we worked through the proposal we knew it felt right."
Mr Moir said the relocation and office refit represented a £40,000 "investment in our future".
Some of the firm's oldest clients date back to the pre-FMA days, when the two partners worked either for others or themselves.
"We like to work with owner managers and there's no airs or graces," Mr Moir said, adding: "We don't jargonise it."
The partnership works like a dream, he said, before going on: "There is none of the third degree. If we don't both agree on something, then it doesn't happen – it's a simple philosphy.
"There's a shareholder agreement between us still waiting to be signed – it's in somebody's back drawer.
"A handshake is far more important to me than a bit of paper."