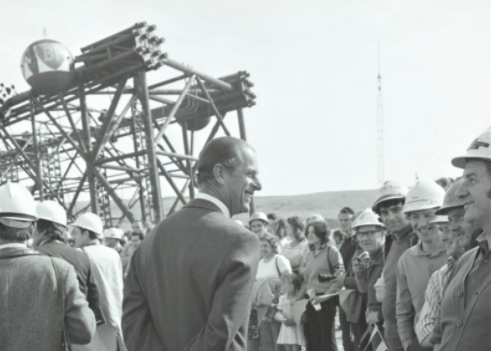 UK-headquartered oil major BP has paid tribute to Prince Philip, who died on Friday morning, aged 99.
The company shared a photo of the Duke of Edinburgh during a visit to Highlands Fabricators' yard at Nigg Bay on the Cromarty Firth in August 1974.
Visible in the background is Highland One, the jacket section of a production platform for Forties oilfield, which was developed by BP before being sold to Apache.
BP said: "We offer our condolences to the Royal Family on the death of His Royal Highness The Prince Philip, Duke of Edinburgh, a great champion of British engineering and of BP over the years."
BP chief executive Bernard Looney said: "I was deeply saddened to hear the news today about Prince Philip's passing.
"Though I never had the pleasure of meeting him, his relationship with our company goes back decades – as these wonderful pictures from our archive show.
"Over the course of his long life and from his extraordinary vantage point, he witnessed history as it unfolded and was there at significant points in BP's journey—often honouring us with his presence as we opened refineries and inaugurated oil fields.
"He was a champion of both British business and engineering – and for that we at BP will always be grateful.
"I send sincere condolences from our entire team to the Royal Family."
Crowds gathered outside Buckingham Palace and Windsor Castle today to pay their respects to Philip.
He had returned to Windsor in March after a month in hospital.
The government urged people to continue following coronavirus rules and not flock to royal residences to leave floral tributes.
In its statement, Buckingham Palace spoke of the Queen's deep sorrow at the death of her beloved husband.
The Royal Family said it joined with people around the world in mourning the loss.
Flags are to be flown at half mast on government buildings from now until the morning after his funeral, while election campaigning has been paused.