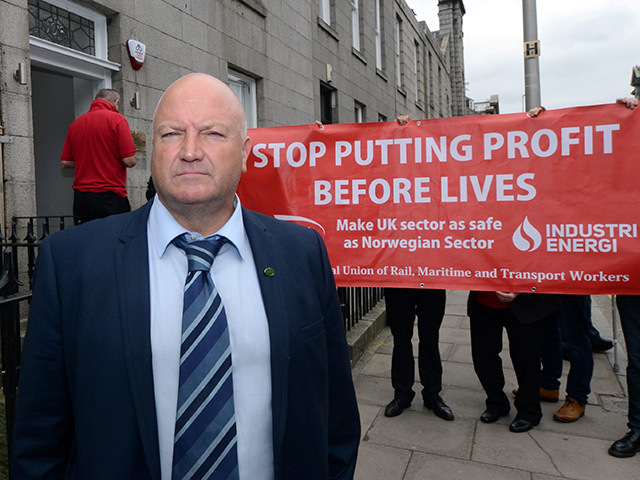 Oil workers held a rally in Aberdeen yesterday to campaign for better offshore safety after four people died in a helicopter accident off Shetland on Friday night.
Members of the National Union of Rail, Maritime and Transport Workers (RMT) protested outside the group's new headquarters on Crown Street.
They were joined by representatives from Industri Energi, Norway's largest trade union, and some of the relatives of the 16 men who died in the 2009 Super Puma helicopter accident.
Bob Crow, general secretary of RMT, said the group would be offering the families legal support ahead of next year's fatal accident inquiry. "Our members should have the right to go to work and feel completely safe," he said.
"We are not prepared to accept anyone dying again."
The workers had been planning to hold a protest outside CHC's Aberdeen base because it was being denied access to visit members offshore in the wake of the tragedy.
It was called off last night after discussions with Oil & Gas UK led to both parties agreeing that the visits would not currently be feasible.
Leif Sande president of Industri Energi said there were big differences in health and safety between the UK and Norway.
"In Norway, it is the law that trade unions have access to oil platforms so when we want to go and visit our members we can.
"This means that workers can tell the shop steward their concerns."
He said that mobile platforms often have to be re-built to conform to the higher safety standards in Norway. "Sometimes operators point to the UK and say there they use the platforms and there it is much cheaper," he said.
"But we say that we will not accept that and we will never compromise on health and safety.
"I will never say that Norway's standards are good enough because they could always be better."
Duncan Trapp, vice president of safety for CHC said: "We understand the concerns and anger among the workforce and we are devastated by Friday's tragedy.
"It is too early to identify the cause of the accident.
"The union, their members and any other offshore workers should be assured that no helicopter operator and no pilot will fly unless they believe it is safe to do so."
Recommended for you

Safety innovation a core value for CHC